About Carol Janda
I have painted since 1970 when I lived at Glacier Bay, Alaska, teaching myself from books and experimentation. In 1978 we moved to eastern Washington where I studied with Del Gish, a Modern Western Impressionist trained under Segie Bongardt. I have since studied with many other wonderful teachers through workshops and classes: Morris Shubin, Bob Laundry, Chris Schink, Don O'Neil, Leo Smith, Tom Nicholas, Jan Borham, Carol Barns, Barbara Neichi, Virginia Cobb, Carrol Orr, Galyen Garwood, Arne Westerman, and Eric Weigardt.
I have had many shows and awards and am a Signature Member of North West Watercolor Society (NWWS); member of Clallam Art League, and Sequim Arts and one of the directors of Clallam Art Gallery. I teach watercolor for the Peninsula College Continuing Ed Program.
My paintings depict our local landscape, mountains, seascapes and flowers. You can see my work in detail at the Callam Art Gallery in Port Angeles.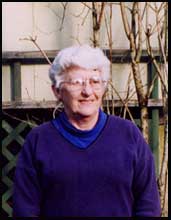 Carol Janda
Port Angeles, WA
360-452-6356 (studio), 360-452-8165 (gallery)
studio@olypen.com