Esther F Conway, Ph.D., Licensed Psychologist Helping Individuals, Couples, and Families Toward a Better Life
In my 40 years as a psychologist my goal has been to provide the safe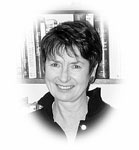 nurturing environment that makes therapy productive. My theoretical background is Jungian and developmental, and I specialize in life transitions, couples counseling, and relationship issues of all kinds.
I help those who are overwhelmed to see positive directions and possibilities, and those who are discouraged to find a way out. Together we set goals,
and I make suggestions or give homework as we find the best strategy to address the issue(s).

I have never forgotten my first experience seeking help from a therapist, wondering what it would be like, and if it could really help. I appreciated the insight and understanding I received, and throughout my life I have found many kinds of therapy to be helpful to me and to my clients.

I also teach classes that embody a safe, nurturing and productive environment
on the following subjects:
| | |
| --- | --- |
| | Enhancing Relationships with Myers-Briggs |
| | Relationships in Conflict |
| | Jungian Approach—Art and Dreams |
These classes are gateways to self-exploration, increased creativity, and life enrichment. Visit my Classes page for descriptions of latest offerings.