<![if !vml]>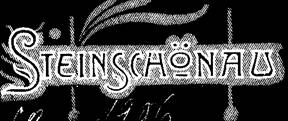 <![endif]>
The following are a set of links to scanned images of picture postcards I have collected over the past year or so.  Each file is about 300kb, so please be patient.  I am also hopeful that we can get a few folks to help identify certain land marks in the pictures.  The first three pictures are probably from the 1920s-1930s.
Here

is

a great couple of montage postcards.

 

The first includes a great map of the City and the second is featuring the Hotel Mercantile in 1899!

 

Number three and four are by the same company circa 1910 of

Steinschönau's

major buildings, and then of its town square.

 
This image is of

Herrenhausfels

and is an engraving of this impressive geological feature that is near to Steinschönau.

 

This image, of the mountain at night with a full moon, comes from an engraving on a postcard from the 1890s.

 

It's a pretty dramatic image.

 

I have included a modern picture as well of this amazing formation.
The following images are from (1) a German Postal Card issued in the 1930s and features the naturopathic facilities, called the Nature Cure Resort at the time, that were world renown; and, (2) a picture postcard taken about the same time.

 

Steinschönau was the site of a world congress on vegetarianism in 1929.

 

For a report regarding the congress, click here.

 

Click on the link below for the image featured on the postal card.
Here is a great picture of the Theater in the center of the City.

 

In the modern pictures of

Kamenicky

, you can see that this building has held up very, very well.
If you would like a high quality digital copy of the postcards shown above, just e-mail me and ask for copies.

 

The costs for all three City Image postcards blown up to 8 x 11, they look awesome at that size, is $10 postpaid.