Wappenpokal
Picture courtesy of Mme. Claudine

Fouss
(Thank you Mme. Fouss for sharing this breath-taking
picture of your remarkable treasure)
<![if !vml]>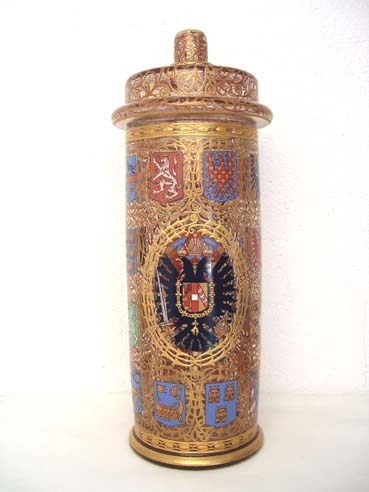 <![endif]>Here is how Leslie described this amazing item:
This mammoth armorial-lidded jar (Wappenpokal) dates from the last years of the Austro-Hungarian Empire in Northern Bohemia.  39 cms(15 and 1/2 inches) high with its cover, it is enameled in gold and carries the coats of arms of constituent regions of the empire, dominated by the two-headed eagle.  A celebratory piece, it was probably made between 1900 and 1914, but its shape and armorial decoration date back to the traditional 17th century German "Humpen"- large enameled vases of cylindrical shape with a slight swelling at the center. 
<![if !vml]>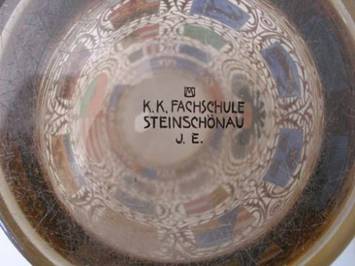 <![endif]>
This fine pokal is signed in black enamel on the base with "F.F.  Fachschule Steinschönau" - the Steinschönau craftschool mark.  Above this signature is a monogrammed "M", the mark of the designer, and below it the initials "J.E"- those of the painter.  The identity of "M" is not clear, and the monogram does not appear in the Dictionary of Glass Marks by C.  Hartmann.  The only other example of this piece that I have seen is in my own collection, of identical form but without a lid, its scrolling enameled in green.  It is signed with the same "M" logo, though with a different painter's initials.  Hugo Max was a major Fachschule designer around this time, and he could be a candidate, though he is best known for his later Jugendstil (Austro-Bohemian form of Art Nouveau) designs.  Alas, the identities of many designers and most of the expert enamellers of this period are now lost to history.