<![if !vml]><![endif]>
Steinschönau/Kamenicky Senov
A virtual Heimat center
Welcome to the Virtual Heimat center for
Steinschönau/Kamenicky Senov
and its neighbors
<![if !vml]><![endif]>
Crest of Kamenicky Senov
It is hoped that this site can serve as a means to share information about Steinschönau prior to 1946.

 

By doing so, it is also hoped that family connections can be reforged.
So, come and learn about the Heimat of our family – come and visit Steinschönau on the web.
Purpose:
The purpose of the site is to
<![if !vml]>

<![endif]> Share information
<![if !vml]>

<![endif]> Reconnect Families
<![if !vml]>

<![endif]> Provide a center for learning about the region
<![if !vml]>

<![endif]> Support projects that would aid our collective endeavors
<![if !vml]>

<![endif]> Support projects that would be a fitting tribute to our ancestors
Site Dedication
Erich Knechtel
1915-2001
<![if !vml]>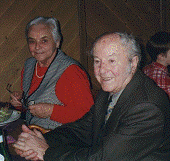 <![endif]>
Erich Knechtel with his
lovely wife of 57 years
Isolde (nee Walter)
This site is dedicated to Erich Knechtel, a Steinschönauer and cousin to the keeper of the website.  Erich was the patriarch of the Knechtel clan and generously shared with many the great documents and stories about Steinschönau that will eventually make it on to the website.  Erich passed on before seeing this site, so this is dedicated to his memory and his dedication to his family's history.  We will greatly miss the "Patriarch of our Clan." 
Isolde Walter
1923-2006
Spring was lacked it's a portion of its luster, laughter and light with the passing of Isolde Knechtel on the 23rd of March 2006.  She was a remarkable woman – strong in spirit and faith.  Cheri and I will forever remember her bright smile, warm laugh, and gracious nature from our visit with her over a decade ago.  She will be greatly missed by all who knew and loved her.
For information or suggestions, drop me a note!
Postal Address:

 

Rod Fleck, 530 Collins Street, Forks, Washington 98331