The Family of Ignaz Eiselt and Anna Tempe
One of the goals of the website is to help other researchers learn more about their family history in the Steinschönau region.  Recently, Titti Isaacson and her daughter Stephanie Eiselt, received materials that round out information on two generations of Eiselts – Ignaz Eiselt married Anna Tempe and their daughter, Elisabeth Eiselt had a son Rudolf Eiselt.  Rudolf is Stephanie's grandfather.  Titti and Stephanie can be reached at skanemaleri@telia.com
Here are the materials they have shared for publication.
<![if !vml]>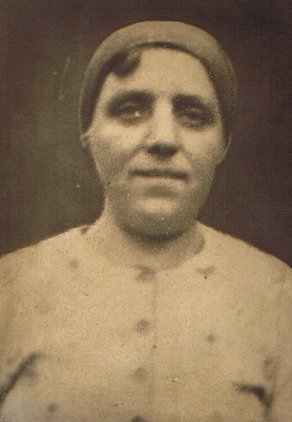 <![endif]>
Elisabeth Eiselt
Retouched to remove a scratch in the photo
<![if !vml]>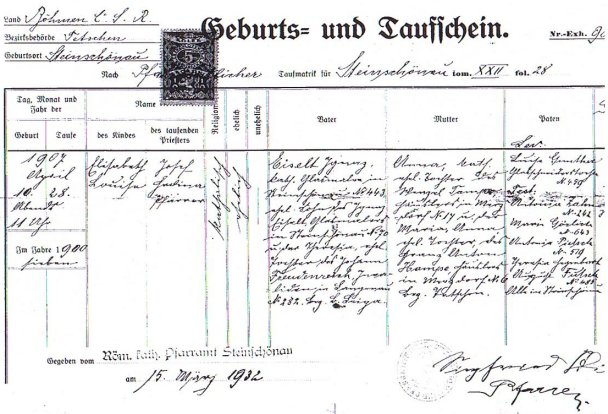 <![endif]>  <![if !vml]>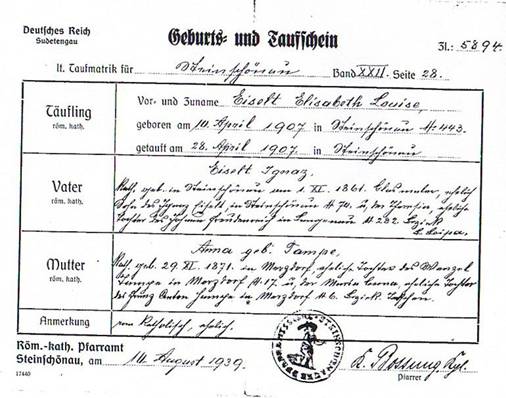 <![endif]>
Two documents sharing the same information about Elisabeth's birth.  The document on the right is the certificate issued to her by the government in 1932, now the one on the right is a 1939 extract certified by the Pastor of the church.  This second document was required by the Nazi government as part of the papers establishing one's identity and origins.
These are a wealth of information.
Elisabeth Louise Eiselt was born on the 10th of April 1907 in Steinschönau at House Nr. 443.  She was baptized on the 28th of that same month in the Roman Catholic Church in Steinschönau.  Her father was Ignaz Eiselt, a glass painter who was born on 1 Nov 1861 in Steinschönau to Ignaz Eiselt of House Nr. 74 and his wife Johanna *** of House Nr. 282.  Her mother was Anna Tampe who was born on the 29 Nov 1871 to Wenzel (?) Tampe of Marzdorf's House Nr. 17 and his wife Maria Anna Tampe, daughter of Franz Anton Tempa of Marzdorf House Nr. 6.
<![if !vml]>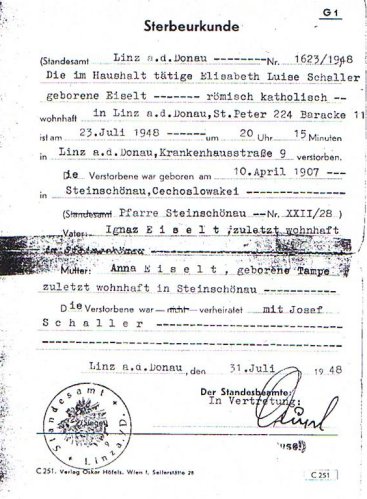 <![endif]>This is the death certificate for Elisabeth providing a death date of 23 July 1948 in Linz a.d. Donau.  The certificate was issued eight days later by the local government official.  It provides additional information about Elisabeth's husband at the time of her death – Josef Schaller.  You can also see that it references the birth certificate entry.
Here are the four generations as a result of the information Titti and Stephanie received.
Ignatz Eiselt  %  Johanna  **                                        Wenzel Tampe  % Maria Anna Tampe
          Steinschönau Nr. 74                                                               Marzdorf Nr. 17
                             |                                                                                     |
                             |------------   Ignatz Eiselt                  &       Anna Tampe       
                                                                                      |
                                                                   Elisabeth Louise Eiselt
                                                                                      |
                                                                   Rudolf Eiselt
The 1921 Census for Steinschönau provides this information regarding the Eiselt family now of House Nr. 443:
1921 Census
House No. 443
Anna Eiselt (Widow)
Otta Eiselt, son
Alfred Eiselt, son
Rosa Eiselt, daugter
Anna Eiselt, daughter
Elsa (Elisabeth) Eiselt, daugher
Irma Eiselt, daughter
Freida Müller, foster-child