Clemens Knechtl
House Nr. 49 – Steinschönau
The following picture is courtesy of Herr Dr. Stephan Barta, a retired Professor for Latin and Philosophy in Austria, who is a descendant of Clemens Knechtl (born 1802), the eldest son of the very famous glass-merchant Franz Anton Knechtl of Steinschönau Nr. 52.
Clemens bought Steinschönau Nr. 49 and began the selling and trading glass, especially in Turkey. He was very successful in marketing the "Anis-yellow" glass, which was produced by his father in law Joseph- and later his brother in law, Carl Conrath, as competition for the "Bernstein"-amber.
Clemens is an elder brother of Franz Anton Knechtl the younger, of number 152, whom I found in the website's Census data. (They later built Nr.92, picture with you! the birth house of your Vetter Erich Knechtl ) Even Gustav Knechtl of Nr.310 (of the new villa - b.1833 and a son of Clemens) is one of his ancestors do to cousins later marrying. Dr. Barta can trace descent from Franz Anton Knechtl the elder through six individuals. He utilizes the older spelling of Knechtl – in the USA it was changed to Knechtel and is the one used within the website.
<![if !vml]>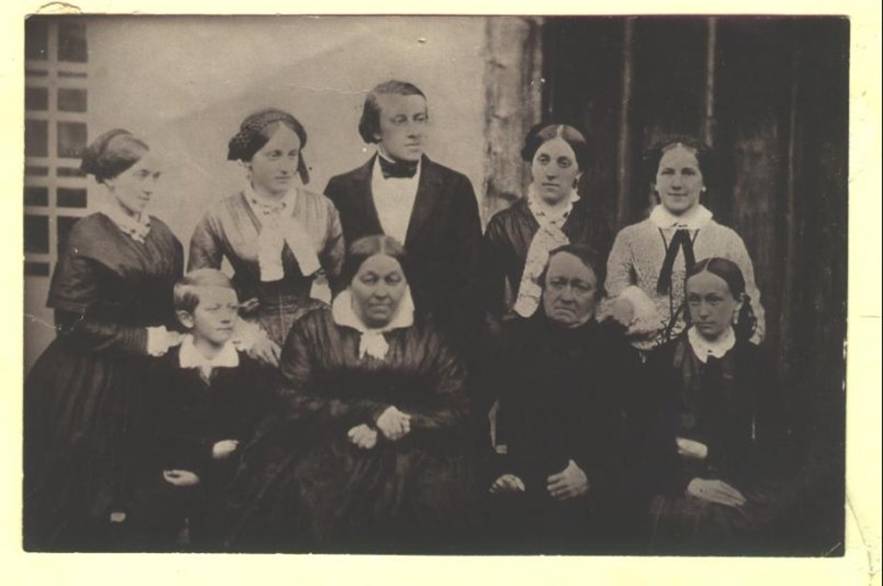 <![endif]>
The following was provided by Dr. Barta about the individuals pictured in this photo – believed to have been taken in 1853 or 1854.
Sitting: the parents Clemens Knechtel (1802-1859) and Maria Josepha, born Conrath (1805-1861)
On the left sitting the youngest son Clemens Carl (1843-1875) died unmarried
On the right sitting the youngest daughter Maria Josepha Leontine (1840-1872), later married to the builder Mik from Prag, no children
Standing from left to right:
Emilie (1826- ), died unmarried
Amalia (1831- ), married 1860 her first cousin Joseph Gürtler, Glasraffineur, no children
Gustav Conrad (1833-1883), glassmerchant, first to his first cousine Adeline, born Conrath (1836-1912). They had a son Carl Knechtel, glassmerchant,(1858-1894), died unmarried, and a daughter Ella (1861-1929), married to
Dr. Joseph Feimann, financial director; their only son Gustav died 1912 as a student climbing in the Alps.
Clementine (1836-1916), my great-great-grandmother; even she married in 1856 her first cousin Carl Conrath (1835-1873);
6 children; Dr.Carl Conrath (1857-1893), Eugenie (1860-1906) married Adolf Pallme-König, Dr. Paul Conrath l (1861-1930), Mag. Alfred Conrath (1864-1897) my great-grandfather and Hedwig (1867-1920), married to Franz ll Friedrich Palme, no children; you will see their further descendents on my list
Anna (1838- ), teacher, died unmarried
The eldest son Franz (1828-1894) was by the time the photograph was taken at the branch establishment of their firm in Turkey. He left the firm later on, went to Vienna and became director of a bank; married 1867 to Maria Magdalena, born Hron, 6 children.
Dr. Barta also noted that Hedwig and Friedrich Palme occupied a special home in Steinschönau that was featured in the 1910 montage of buildings on this postcard. Here is that part of the postcard.
<![if !vml]>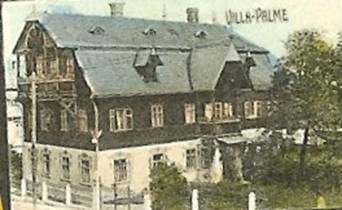 <![endif]>