A few links to help you find your ancestors veteran's records
<![if !vml]>

<![endif]>
The National Archives – repository for federal records, but lacking a lot of on-line search options in some regards.  Use the link above to order copies of records – some have a charge for the copies.
NARA's AAD – Access to Archival Databases
NARA does have some various databases on line and searchable.  One is the WWII enlistment database – if this link does not work use the following instructions to get there.  But note that there are gaps in the records – read the database description carefully if you don't find your family member.
<![if !supportLists]>1. <![endif]>Visit this site:  http://aad.archives.gov/aad/title_list.jsp
<![if !supportLists]>2. <![endif]>In the subject box, click on the "▼" (it is similar to this) and scroll down in the text box until you find "World War, 1939-1945" select that set of records.
<![if !supportLists]>3. <![endif]>Click submit and it will gather the links to all digital records for WWII.
<![if !supportLists]>4. <![endif]>Select the WWII Army Enlistments record database – you will be taken to the catalog description of this record group.  When you are done reading that description click on the RED "SELECT" – it will take you to another screen with more descriptions and two sets of records you can search.
<![if !supportLists]>5. <![endif]>Select the enlistment records by clicking the RED "SELECT" button.
<![if !supportLists]>6. <![endif]>This will take you to an electronic form you can search for records – you can enter a surname only – FLECK for example resulted 329 names being found and seven pages to scroll through.  Fortunately, my grandpa is on the first page as FLECK#CLIFFORD#J######## -- So, I can select this record by clicking on the box to the right and then selecting "SHOW SELECTED RECORDS"
<![if !supportLists]>7. <![endif]>That will bring up a screen that will be similar to this one and will provide you with information on your WWII army enlistee.
<![if !vml]>

<![endif]>
Working with a host of volunteers, the National Park Service maintains a great search engine for those looking for the Civil War ancestors – Union or Confederate.  Click on the above icon to open this page.  Once it opens – select from the options of "Soldier," "Sailor," "Regiment," "Prisoner," "Cemeteries," "Battles," "Medals," and "Parks."  In this example I am looking for one of two soldiers – August Funk or George Lewis.  Both were Union soldiers.  Type in the names indicate what side they fought for (Union=North; Confederate=South) and submit the form by clicking "SUBMIT QUERY."  Searching for George Lewis found 450 individuals – with 50 to a page – if I didn't know a bit more about him, I could scroll through all nine pages.  But, I can go back and add that he served from Michigan.  That new search found 19 names…but I see my wife's ancestor – he was a sharpshooter from Michigan – a member of the 1st Michigan Sharpshooters.  Clicking on the name will give me the following information – taken from a regimental muster card:
George Lewis (First_Last)
Regiment Name 1 Michigan Sharp Shooters.
Side Union
Company G
Soldier's Rank_In Pvt.
Soldier's Rank_Out Pvt.
Alternate Name
Notes
Film Number M545 roll 24
Clicking on the regiment will give you a brief description of the regiment – its battles, and it looks like this:
UNION MICHIGAN VOLUNTEERS
1st Regiment, Michigan Sharpshooters
Organized at Kalamazoo and Dearborn, Mich., April 14 to October 7, 1863. 6 Companies mustered in July 7, 1863, and ordered to Indianapolis, Ind.; thence to Seymour, Ind., to repel the Morgan Raid. Action with Morgan at North Vernon, Ind., July 13, and at Pierceville July 14. Returned to Dearborn, Mich., and duty there till August 16. Moved to Chicago, Ill., August 16, and duty guarding prisoners at Camp Douglas till March 17, 1864. Ordered to Annapolis, Md., March 17. Attached to 2nd Brigade, 3rd Division, 9th Army Corps, Army of the Potomac, to September, 1864. 2nd Brigade, 1st Division, 9th Army Corps, to July, 1865.

SERVICE.-Duty at Annapolis, Md., till April 23, 1864. Campaign from the Rapidan to the James River, Va., May 4-June 15. Battles of the Wilderness May 5-7; Spottsylvania May 8-12; Ny River May 10; Spottsylvania Court House May 12-21. Assault on the Salient May 12. North Anna River May 23-26. Ox Ford May 23-24. On line of the Pamunkey May 26-28. Totopotomoy May 28-31. Cold Harbor June 1-12. Bethesda Church June 1-3. Before Petersburg June 16-18. Siege of Petersburg June 16, 1864, to April 2, 1865. Mine Explosion, Petersburg, July 30, 1864. Weldon Railroad August 18-21. Poplar Springs Church September 29-October 2. Reconnoissance on Vaughan and Squirrel Level Roads October 8. Boydton Plank Road, Hatcher's Run October 27-28. Fort Stedman, Petersburg, March 25, 1865. Appomattox Campaign March 28-April 9. Assault on and fall of Petersburg April 2. Occupation of Petersburg April 3. Pursuit of Lee April 3-9. Moved to Washington, D. C., April 22-27. Grand Review May 23. Camp near Washington, D. C., till July 28. Mustered out July 28, 1865.

Regiment lost during service 6 Officers and 131 Enlisted men killed and mortally wounded and 165 Enlisted men by disease. Total 362.
If your ancestor hailed from Pennsylvania – this is a great site to search for military information.  Click on the link above to be taken to the starting page for their database search engine.  You will come to a website that says Welcome to ARIAS, the Archives Records Information Access System.  Now click, on the brown "Archives Records Information Access System" link.  This will take you to the ARIAS options – we are searching for August Funk from Pittsburgh, Pennsylvania.  So, I would click on the "Civil War Veterans Card File" link and go to that page.  Now I get a list of letters to select from – I choose F for "Funk" and get a list of indexes…I scroll down and find that Funk would fall in this index:  Fultz, Jacob - Funk, Augustus M.  Now because August Funk would fall before Augustus M. Funk I can select the last set of cards in the file – scroll down and there is my Civil War ancestor.  Here is the digital image that I was able to find:
<![if !vml]>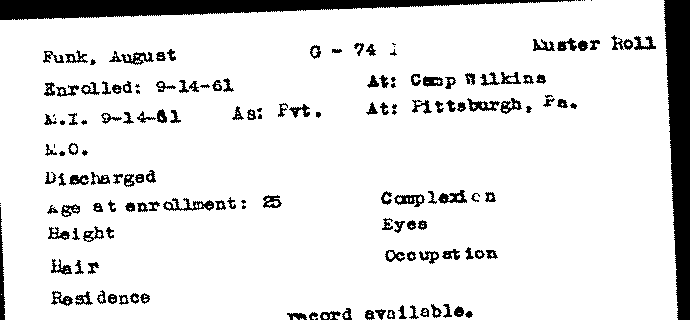 <![endif]>

Sure enough – that is him, he enlisted in the "First German" regiment, what became the 74th Pennsylvania Volunteers.  With this information, I could go back to the National Park Service Soldiers and Sailors Site above and get the information on his regiment…but, I happen to know that because I am the webmaster for the 74th PA Regiment's descendants.  Here is a link to that webpage (yes, gratuitous plug):  74th PA Regiment Website. 
This is a portal site to about everything there might be on the web related to the Civil War broken down by topic and subject.  It's a great place to learn more about the Civil War, your ancestors, Memorial Day, even what type of food was issued to the Boys in Blue, or those in Grey.
<![if !vml]>

<![endif]>
This is the site for the Sons of Union Veterans of the Civil War – the legal heirs, as appointed by the U.S. Congress, to the Grand Army of the Republic.  Any male descendant of a Union Veteran may join this organization.  The site has links to the orders for the women descendants as well.  The GAR lobbied for the establishment of Memorial Day as a national holiday.  You can see how the Memorial Day holiday began with the Union Veterans (Confederate veterans and their families began Remembrance Day in the South) with General Logan's order to the GAR at:  http://www.suvcw.org/logan.htm
<![if !vml]>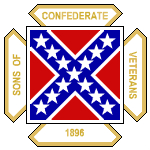 <![endif]>For those whose ancestors fought in Grey, here is the link to the Sons of Confederate Veterans.
<![if !vml]>

<![endif]>
If you cannot find what you are looking for above, Cyndi's List is the mother portal of anything genealogical.  With over a quarter of a million links, organized by subject, this is the site to begin most genealogical research.  The military page is at:  http://www.cyndislist.com/military.htm 
Hope this helps to some degree.
Rod Fleck