<![if !vml]>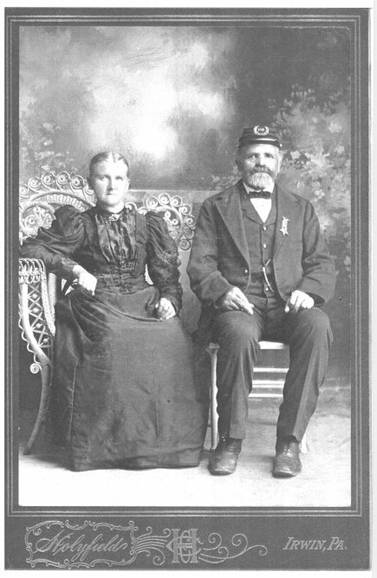 <![endif]>Johann Sebastian Rathgeber was born in 1835 in Württemberg, Germany. It is still not known when he arrived in America. He lived in North Huntingdon, PA and worked as a miner and eventually he owned a large portion of land in the area that has since been divided and sold. His descendant, Edward Schneider personally grew up what is left of the farm and recalls the mines up in the hill that Johann worked in. There are still remnants of Johann home, a small stone foundation that his descendants explored as kids.
His birth name was Johann Sebastian Rathgeber but he went by John and over the years his last name was shortened to Rathgeb.  His wife's name was Mary.  He had 5 children, 2 boys and 3 daughters. The sons never married but the 3 daughters did.
He died in 1913 and is buried in Irwin, PA.
He had enlisted in 14th Pennsylvania Volunteers Infantry on April 24, 1861 to serve for a period of three months. He held a rank of private and was in Company K. He was discharged August 10, 1861.  He then enlisted in the 74th Pennsylvania Volunteers Infantry on September 6, 1861.  He served under Captain Charles Bollstetter in Company E. He was discharged at Fort Henry on November 11, 1862 due to injuries. He held a rank of a private.  He served in the regiment during the 2nd Battle of Bull Run.
<![if !vml]>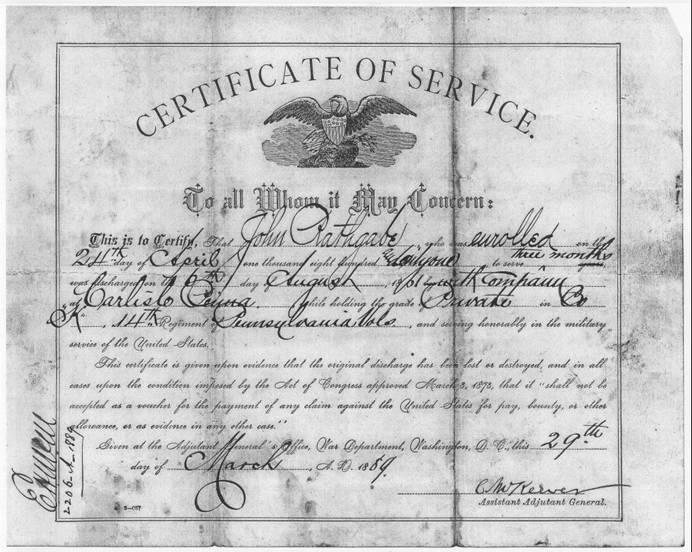 <![endif]>
The first document I have sent shows his certificate of service in the 14th Pa Vols and that he was honorably discharged in Carlisle, Pennsylvania. Apparently he had lost the original and this was copy given to him in 1889.
<![if !vml]>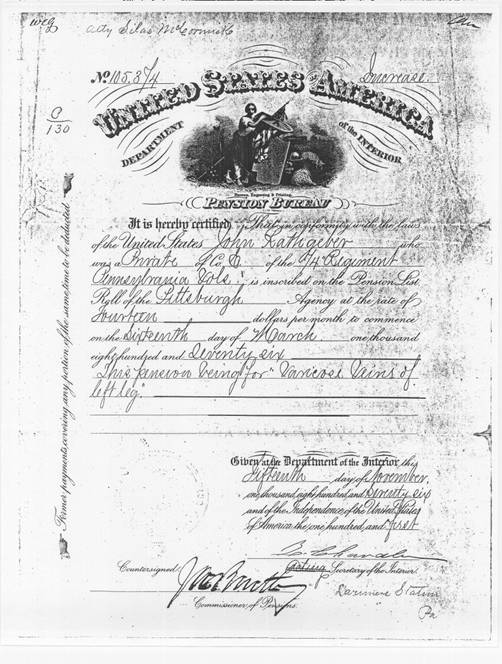 <![endif]>
The second document is from the Pension Bureau showing that he was to receive a pension of $14 beginning in March of 1876 for his service in the 74th PA Vols.
<![if !vml]>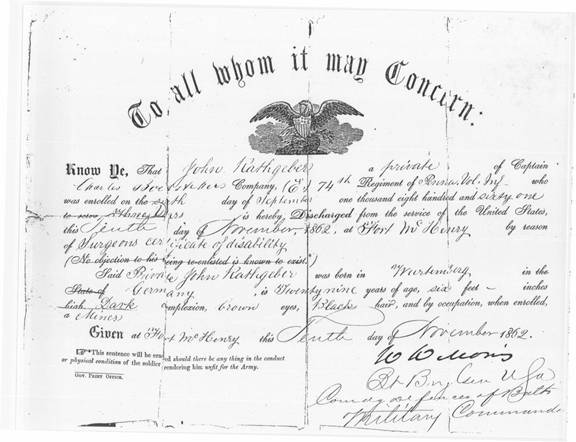 <![endif]>
The third document is that of his discharge from the 74th PA Vols. It is hard to make out but it shows that he was a private under Charles Bollstetter in Company E.
The documents do not reveal what his injuries were that caused him to be discharged.  Based on the battles that are listed on the web site he would have been with the unit through the 2nd Bull Run engagement but he was discharged before Chancellorsville and Gettysburg.