<![if !vml]>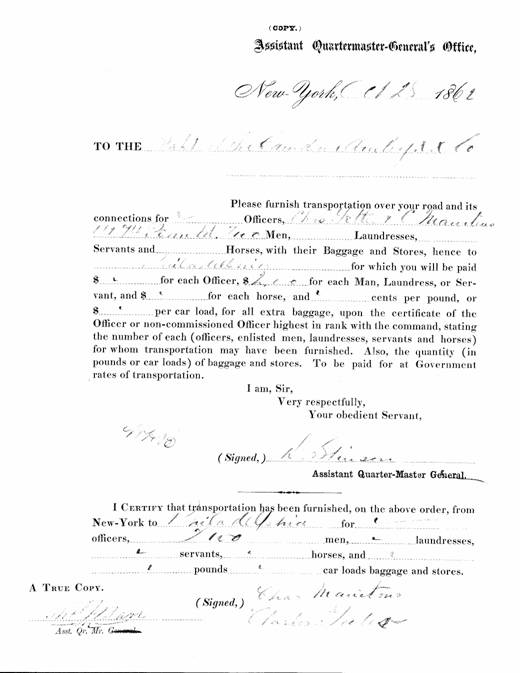 <![endif]>
The document reads as follows:
(copy)
Assistant Quartermaster-General's Office
New York, Oct 28, 1862
To the Sept of the Camden & Amboy RR Co.
Please furnish transportation over your road and its connections for üOfficers, Chas Getter & C. Manituisu 41 – 74 Penn Vol. Two Men, ___ laundresses, ____ servants and ____ horses, with their Baggage and Stores, hence to Philadelphia for which you will be paid $ ü for each Officer, $2.00 for each Man, Laundress, or Servant and $ü for each horse, and ü cents per pound, or $ü per car load, for all extra baggage, upon certificate of of the Officer or Non-commissioned Officer highest in rank with the command, stating the number of each (officers, enlisted men, laundresses, servants and horses) for whom transportation may have been furnished.  Also, the quantity (in pounds or car loads) of baggage and stores.  To be paid for at Government rates of transportation.
I am, Sir,
Very respectfully
Your obedient Servant
D Stinson
Assistant Quarter Master
(initials of WHB in the margin)
I certify that transportation has been furnished, on the above order, from New York to Philadelphia for ü officers, Two men, ü laundress, ü servants, ühorses, and üü pounds ü car loads baggage and stores.
A TRUE COPY Signed Tho. J. Barr, Asst Qr Mr.  Signed Chas Manitius and Charles Tater