Grave Site of General Schimmelfennig
Picture courtesy of Rob Frederick
<![if !vml]>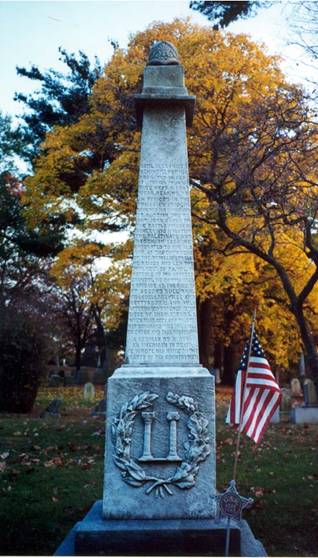 <![endif]>
The following is a transcription of the inscription on the monument:
Genl. Alexander Schimmelfinnig.
Born July 20, 1824 in Lithauen, Prussia.
Died September 5, 1865 near Reading, Pa.
An Officer in the Prussian Army. He resigned his commision to sustain the
Republican cause on the battlefields of Schleswic, Holstein, The Palatinate
and Baden. In 1853 he emmigrated to the U.S. and at the outbreak of the
rebellion in 1861 he raised and led the 74th Regiment of Pa. Vol. In defense
of his adopted country. He commanded a brigade at the battles of Second Bull
Run, Chancellorsville and Gettysburg; and was afterwards ordered to the siege
of Charleston, S.C. when that city capitulated.
His command was the first to enter and take possession.

A German by birth;
An American in death;
He wrote his name on
the hearts of his countrymen.