<![if !vml]>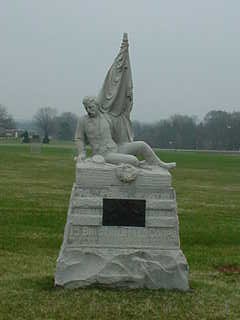 <![endif]>As many individuals who have attempted to research the 74th have learned, Samuel Bate's History of the Pennsylvania Volunteers, Volume 1, has a history of the regiment and an alleged listing of its members.  The problem with that listing is that it is incomplete.  First, most of the names listed therein are from the second regiment that was formed in late 1864 and early 1865 when the enlistments of the members of the first regiment expired. Second, Samuel apparently did not have all of the documents available to him from the first regiment, since very few of its members are listed. 
As a result, I have utilized various sources in the process of constructing this page.  In total, the list is nearly 2.5 mb in size and over 128 pages of listings.  There are about 980 names from the plaques at the Soldiers and Sailors Monument in Pittsburgh alone.    I would venture that it currently has about 1200-1500 names or there about; HOWEVER, I need to highlight the fact that this is not a complete muster list.  Each month I have had someone find a source (pension record, book, tombstone, etc.) that has the name of someone of the 74th that I don't have on the site.  So, let me know when you find someone you know that was in the 74th, with the source, and I will make the addition.
I have divided up the entire list by alphabetical sorts of the surname. looking for August Funk, look under the F portion of the list.  The layout is simple:  Last name, first name & middle initial, rank, company, comments, sources for those comments, and the e-mail link for those researching that individual.  The source code is accessed by a different page than the actual muster list.  Sorry about that, but that is how I started this over a year ago.  I also have deleted any fancy backgrounds and the like.  Please realize that some of the files per letter are over 200KB in size, so it make take a few seconds to up load.
Oh, there is no "Q" section – so far, we don't have a member with the last name "Q". 
I hope to continually add names as we find them.  They may be on a corps badge found on a net auction, or in a newspaper obituary, or a pension record.  If you provide me the information and a copy of the source, I will make the addition.
If you find an error, e-mail me and I will fix it.  I will not swear to perfection, but only to a valiant attempt to at least make available a more complete roster.
Reconstructed muster list of the 74th PA Volunteers