Corporal Joseph Nist
Joseph Nist enlisted in the 74th PA and served in Company H.  He was promoted to Corporal and at the Battle of Gettysburg he was wounded during the night fight on the 2nd of July at Culp's Hill as noted in his application for pension.  His descendant, Bill Nist, obtained his pension record and provided us with copies of these affidavits.  He notes that he has at least "two more general affidavits from witnesses to his wounding in the battle and four pages of general muster, returns, etc., that include the Co H's activity, including Chancellorsville, Johns Island (SC), James Island (SC) and finally muster out at Clarksburg, WV Jun 1865.  Joseph mustered out on the 22nd of June, 1865 in Clarksburg, West Virginia. 
Joseph recovered from the head injury after a 6-7 week convalescence at Satterlee Hospital in West Philadelphia.  He returned to duty on 20 Aug 1863, but was still in need of some medical attention as he apparently spent the next two months, until Oct 20, 1863, whereupon he returned to his regiment.

His pension record indicates that after Gettysburg and his return to the regiment he was assigned from May to July 1864 to the boats crew by order of Lt Col A V Hartung. He also got assigned to a special duty in Aug 1864 as a teamster at post QM, detached by S O from brigade HQ dated Aug 24, 1864. He was assigned to this detail again from Dec 1864 to Mar 1865 teamster, regt order no 49, dated Oct 15, 1864. On June 22, 1865 at Clarksburg WV, he mustered out under prov G O 53 HQ. Notations follow on the back of the form for Johns Island, SC Feb 8, 9, 10, 11, 1864 and James Island, SC, July 1, 2, 3, 4, 1864.
<![if !vml]>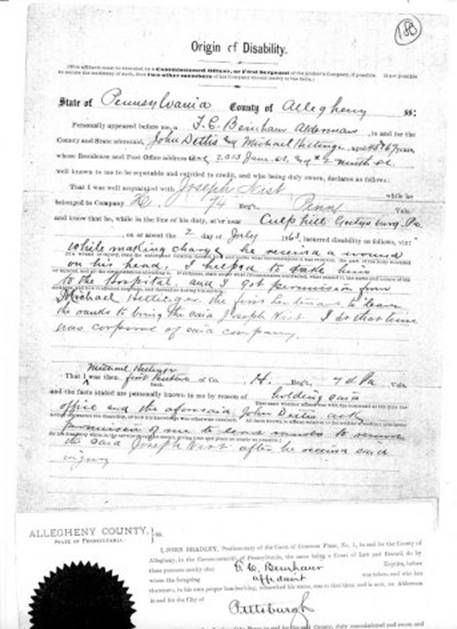 <![endif]>  <![if !vml]>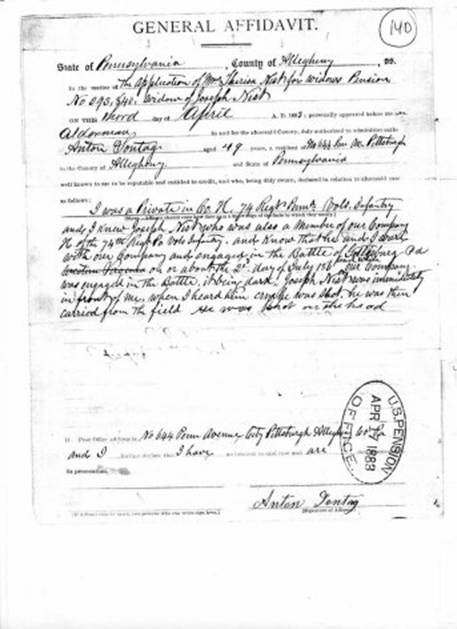 <![endif]>