Otto Godkin von Galen, aka William Goettken
Cindy Thomas
Due to "Political differences" Count Christoph Herman Joseph Godkin Von Galen was forced to flee from Austria in the early 1800`s.  Little is known about his life after he moved to the US, but he bought or rented a large farm from someone named Jackson near Clarksburg West Virginia. He had a beautiful wife who was somewhat crippled and they had a son named Otto. After Otto`s mother died he was sent to live with the " Redemptorest fathers."
Otto wrote that his father taught at Lexington with Stonewall before the civil war, and that his father then became an officer under Jackson and Lee.  Christoph was killed at Chancellorsville in May 1863.
Otto wrote a letter to his wife dated July 30 1905 from St. Louis Mo.
" I have just received information from Washington that I am allowed a pension of six dollars per month on the age limit- this is because when I ran away from the school and enlisted under the name Wm Goettken and served from September 1862 until June 1863 when I was discharged, got my certificate of discharge now, and I will immediately apply for an increase of pension on account of disabilities and I expect to get at least $12.00 and after two or three years about $24.00 per month."
                                 Pension Index Card for William Goettken, Co. E, 74th PA.                                                                                       
<![if !vml]>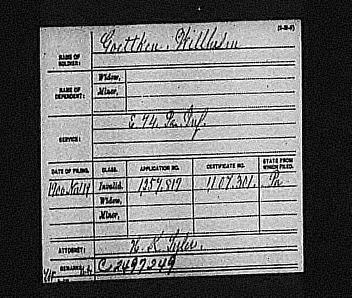 <![endif]>