Gary Casteel's Sculpture of the
74th Monument at Gettysburg
<![if !vml]>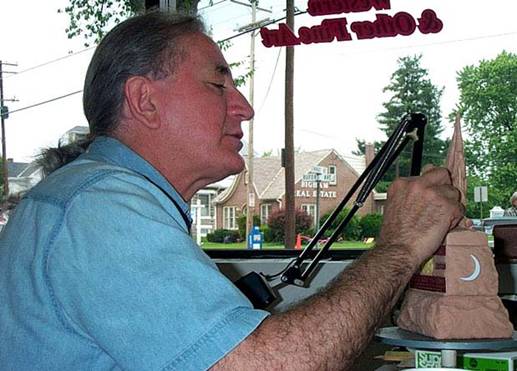 <![endif]>
Gary Casteel working on the 74th monument replica
Picture courtesy of Rob Frederick, descendant of Corporal John Frederick,
 taken in the Four Winds Studio and Gallery in Gettysburg
Thanks to the requests of a few of the descendants of the 74th, Gary Casteel created a miniature sculpture of our ancestors' monument at Gettysburg.  Gary Casteel is nationally renowned for his sculptures reminiscent of the European masters.  He was the sculptor of the most recent and long overdue addition to the monuments at Gettysburg – the General Longstreet Memorial. 
Gary has also recreated a line of monument replicas – and the 74th's is among those exquisite creations offered by Gary Casteel.  The replica can be purchased in either a Pecan Resin or in a White Stone/Bronze combination.  Both are exquisite!
To learn more about Gary's talents and offerings, take a bit of time and visit the on-line gallery site of Gary Casteel.  Gary and his lovely wife Leslie recently moved to the Shenandoah Valley of Virginia.
It is important to highlight the fact that a portion of the proceeds associated with the sale of the monument replicas goes toward efforts to preserve the monuments at Gettysburg.
HERE IS THE RESULT – READY FOR CASTING
<![if !vml]>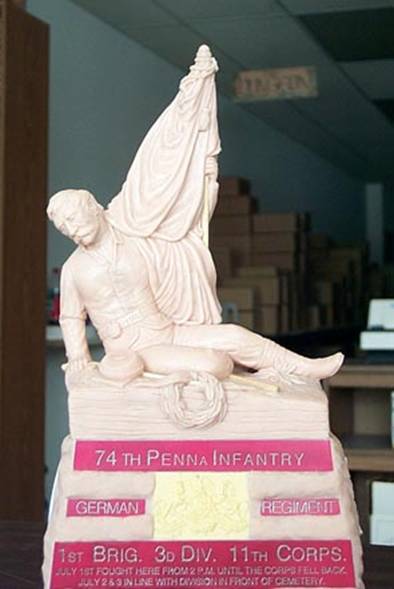 <![endif]>
All pictures courtesy of Rob Frederick, descendant of Corporal John Frederick,
 taken at Gary's former gallery in Gettysburg
it's finished – WOW!!!
Folks, here it is – the finished product and it is absolutely stunning.  WOW!!!  Remember, a portion of all of Gary's work goes towards monument restoration.
To Gary – ausgezeichnet! (Outstanding!)  Truly a remarkable piece and something that many of us will treasure in our homes.
To Rob – thanks for the pictures that made this page possible.
Click here to see the finished product!
Please order on line with Gary at his on-line gallery site www.garycasteel.com