<![if !vml]>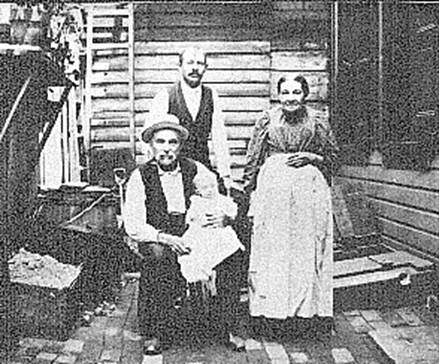 <![endif]>
August Funk – taken around 1898 – he is holding his granddaughter Henrietta and it is believed that his son Gustav is behind him – his wife Annie is at his side.  Taken at their house in the Southside of Pittsburgh.
My ancestor was born Johann Heinrich August Funk on 3 Jan 1837 in Minden,Westphalia Germany to Johann Bernard Funk.  August's father was from Mennighuffen, the son of Johannes Funk, and August's mother was Anna/Johanna Marie Catharina Beck, the daughter of Johann Christian Beck of Herford.  The couple was married on 20 March 1825 in Minden's St. Marien Church.  August was baptized on 15th of January 1837 in St. Martini's Church in Minden.
August immigrated to the United States in 1858 – or so we believe.  This belief is based upon the arrival of an August Funk from Bremen in 1858. 
He lived in Pittsburgh and met the love of his life – Anna Elisabetha Alt in the Iron City.  Anna was a recent immigrant who came with her entire family from Steinau a.d. Strasse in Hessen-Kassel Germany.  August and Anna were married on 28 July 1860 at Pittsburgh's Saint Paul's Evangelical Lutheran Church.  Witnesses to this were Anna's father, Leonhard Alt, and August's friend Freiderich Albrecht – he also would serve in the Civil War and be one of Anna's witnesses when she applied for a pension.
Nine months after their wedding, the Rebel Forces of South Carolina fired upon Fort Sumpter…and the nation was plummeted into a bloody civil war.  August probably heard of the raising of a German regiment in Pittsburgh while attending church, or walking home and passing recruiting flyers.  Alexander von Schimmelpfennig, a veteran of the 1848 uprisings in Germany, had been selected to lead a regiment put together by a group of merchants in Pittsburgh.  Schimmelpfennig had been Carl Schurz's commander in Germany, now the roles would be reversed.
<![if !vml]>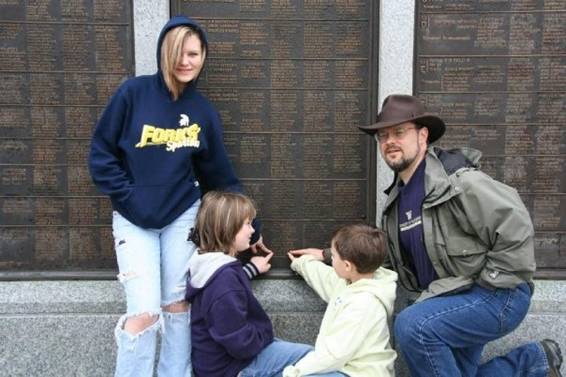 <![endif]>
Rod with his kids fulfilling a family tradition at Gettysburg
<![if !vml]>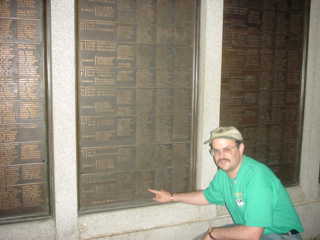 <![endif]>
Rod showing where August is located on the 74th Plaque at the
Pennsylvania Monument at Gettysburg
<![if !vml]>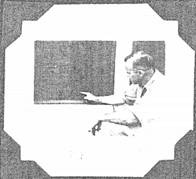 <![endif]>
This is Rod's Great Grandfather, William Charles Knechtel,
doing the same thing sixty years earlier!
August joined for duty on 3 September 1861 in Birmingham, Pittsburgh's South Side.  According to the muster rolls (thanks Bret!) we know that August was a mechanic when he enlisted.  He and the regiment mustered into service on 14 September 1861.  He left at home Anna with his four month old daughter Elizabeth.  The regiment mustered into service on 14 September 1861.  The regiment he originally joined was the 35th Regiment Pennsylvania Infantry – and due to political infighting amongst the merchants – the regiment was disbanded then reformed as the 74th Regiment Pennsylvania Infantry in early part of 1862 while it wintered at Washington, D.C.
August was with the regiment until his enlistment ended in 1864.  During that time, he fought with the regiment during the battles found in the outline associated with this website.  He is noted to have served in the capacity of an ambulance driver and was detached to the Ambulance Corps on at least one occasion.  He also was listed as a drill instructor in the regiment's books.  While he was away, Elizabeth passed away in February of 1863. 
He was promoted to Corporal on 1 January 1864 and served in that capacity at Gettysburg.  His name is on the Pennsylvania Monument at Gettysburg under Company K.  He was discharged on 17 October 1864 when his term expired. 
<![if !vml]>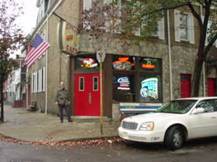 <![endif]>August lived the rest of his life in Pittsburgh's South Side.  Ultimately, he would owned a home at 46/48 South 27th Street in Pittsburgh's South Side.  This would be a site for many of the family's living and business adventures ranging from a store to a bar which was closed because the City wouldn't reissue him the necessary permits.  Today the building is the home of Cupka's Deli – pictured above - a South Side tradition and there is a great bar next door in the same building.  He and Anna attend the Birmingham Church of Christ and many of their children were baptized there. 
August died on 9 June 1900.  His occupation was listed as Gentleman.  Cause of death was given as cancer of the stomach which he endured for over a year.  His obituary noted that he was a member of the Peter Futs Lodge No. 486 of the International Order of the Odd Fellow, Schillders Glocke, and the Union Veteran Legion.  Members of Company K were also invited to his services.
Anna would live the remainder of her life as a widow at the home on 27th Street.  She would eventually obtain a widow's pension, which she used to augment her income until her death in 1928.
The following are the children of August and Anna Elisabetha Funk:
<![if !supportLists]>1. <![endif]>Elizabeth Funk – born 31 May 1861 and died 13 February 1863.
<![if !supportLists]>2. <![endif]>William Lanehart Funk – born 20 July 1865, South Side, Pittsburgh, PA – married Anna C. Bode on 28 February 1894 and he died on 27 April 1905 in Pittsburgh, PA.  William made a trip back to German and made repeated visits to the towns listed above for the "Minden area."
<![if !supportLists]>3. <![endif]>Henry Funk – born 16 October 1866 and died 30 October 1867.
<![if !supportLists]>4. <![endif]>Henry A. Funk – born 6 March 1868 and died on 29 May 1906.
<![if !supportLists]>5. <![endif]>Johann Heinrich August Funk – born 22 October 1869 in Birmingham, PA and died on 30 October 1869.
<![if !supportLists]>6. <![endif]>Heinrich Peter Leonhard Funk – born 22 October 1869 in Birmingham, PA and died on 15 June 1870 in Birmingham, PA.
<![if !supportLists]>7. <![endif]>Johann Gustave Adolph Funk – born 26 November 1870 in Birmingham, PA and died on 29 March 1914 in Pittsburgh.  Gustave was disabled and referred to as an "invalid" by the family.
<![if !supportLists]>8. <![endif]>Augusta Henrietta Funk – born 1 June 1873; married William Daum in 1899 and died in 1945.
<![if !supportLists]>9. <![endif]>Ann Carolyn Louise Funk --  born 29 October 1874 in South Side, married William August Bode in 1898 and died on 27 November 1951 in Brintwood, Pennsylvania.  Rod Fleck's ancestors.
<![if !supportLists]>10. <![endif]>Infant Funk – born 3 January 1876 in Birmingham and died in July 1877