Drummer Alois Schaar
<![if !vml]>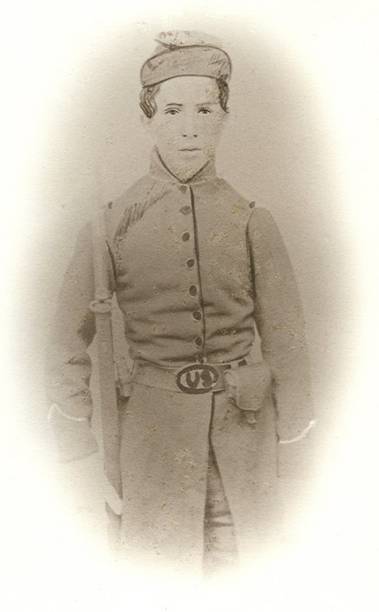 <![endif]> Was born in July 1846, but he claimed to be born in 1843 according to the regimental descriptive books, in the village of Bad Reinerz (Polish: Duszniki Zdroj), Glatz County (Polish: Klodzko), Breslau Administrative District, Province of Silesia, Kingdom of Prussia.  He emigrated to the United States in 1857 and became a naturalized U.S. citizen.  After the war, he was lived at 843 Frederick Avenue, Baltimore, Maryland.
In 1861 Private Schaar stood 5'0.5", had a healthy complexion, blue eyes and light brown hair.   He stated that in 1861 he was employed as a gardener, in 1880 and 1910 as a harness maker. He was recruited on 17 June 1861 by Adolph von Hartung, and  mustered in 5 August 1861 for three years as a Private (drummer) at Camp Egglesfield, Philadelphia, by Captain Joseph Hunter McArthur, 2nd U.S. Cavalry.  He was wounded in action 22 August 1862 at Freeman's Ford.  But after recovering from his wounds, he returned to the regiment and was mustered out 16 September 1864 with expiration of term of service at Fort Ethan Allen, Virginia.   Private Schaar saw action at Cross Keys, Freeman's Ford, Chancellorsville, and Gettysburg. 
After the war, he married Catherine (Katie, b. September 1854) c. 1870 in Baltimore, Maryland .  They had the following
children:
<![if !vml]>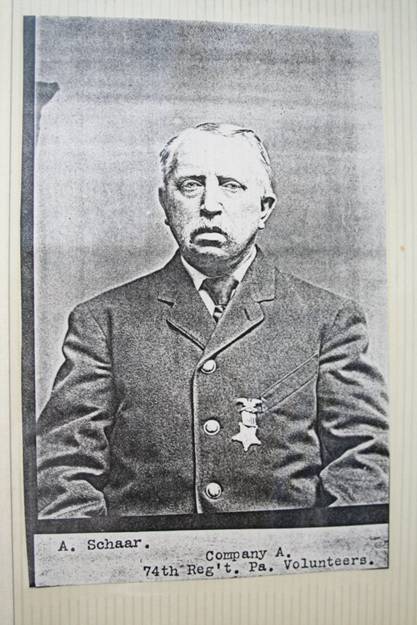 <![endif]>
<![if !supportLists]>· <![endif]>Melissa C. (b. ca. 1874),
<![if !supportLists]>· <![endif]>Julia E. (b. January 1882),
<![if !supportLists]>· <![endif]>Matilda (b. June 1888),
<![if !supportLists]>· <![endif]>Walter A. (b. September 1890),
<![if !supportLists]>· <![endif]>Frederick (b. June 1892),
<![if !supportLists]>· <![endif]>Wilhelmina R. ("Minnie", b. September 1894), and
<![if !supportLists]>· <![endif]>Emma ("Emmy", b. September 1896).
The family recalls a story about how Private Schaar met President Abraham Lincoln. 
Alois walked with a cane in old age, presumably due to the injuries he sustained at Freeman's Ford.  He was successful in business owning his own shop on Frederick Avenue in Baltimore where he worked as a harnassmaker.  His family remembers how he "religiously went to Loudon Park Cemetery in Baltimore with is children and put flower petals on the graves of Civil War Veterans.  At Christmas, he would make his children sing patriotic songs when the special family ornament was put on the tree."  That ornament remains in the family's possession today.  On the 4th of July, Alois would take his entire family to Gettysburg for a picnic next to the monument.
His daughter, my grandmother, lived a long life and died in her ninety's. She shared many stories of her father with me that I recorded. One story she told me involves Abe Lincoln. The story goes like this: After he was hospitalized in a Washington hospital and recovering from his wounds ( wounds he received at Freeman's Ford - shot three times, in the back of neck and behind each knee), Abe Lincoln visited the hospital and shook his hand. Instead of getting discharged, he was released from the hospital after recovering from his wounds just in time to re-join his regiment just before the Battle of Chancellorsville.
Alois also attend the G.A.R. parade in 1925 that took place in Washington D.C.  The image on the bottom right is from that parade courtesy of another descendant of Alois who shared it with Champ.
<![if !vml]>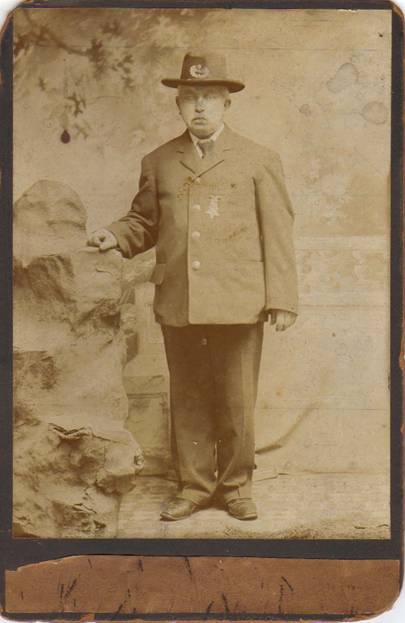 <![endif]>
There are a few other items associated with Alois Schaar here on the website: