Aaron Kern Gift – 74th Pennsylvania Infantry Regiment
Born:  November 19, 1827             Died:  May 16, 1909
Married:  Amelia Royer, May 24, 1855 in Adamsburg, now Beaver Springs, PA by Rev. Wm. G. Hackman
Children: (4)
John R. Gift                b. March 06, 1858
Minerva J. Gift
         

b. April 03, 1862

Mary E. Gift               b. October 18, 1865

Herbert A. Gift          b. February 24, 1874

Lived in Middleburg, Snyder County, PA.   Was a teacher, then a surveyor, and after the Civil War was a part time surveyor and Justice of the Peace.   Spent a few years in Nebraska, his son had moved there.   However, he returned to his hometown and died there.   Mr. Gift published a family genealogy book, "History of the Gift, Kern and Royer Families" in 1909.   The whole of Chapter 1 is devoted to his life and travels.   However there isn't much on the Civil War in the book. 

Civil War Pension      Application # 364813     Certificate # 353000

Widow:  Amelia Gift   Application # 922517   Certificate # 686275

Enlisted as a Private.  Promoted to 1st Orderly Sergeant, 1st Pennsylvania Reserves (Emer. Mil), 30th Pennsylvania State Militia Infantry, company I - enrolled Jun 16, 1863 at Selvies Grove, PA, Honorably discharged with company July 26, 1863 at Harrisburg, PA.  Enlisted as a Lieutenant 2nd class on March 4, 1865.  Commission in Company D, 74th Infantry Regiment Pennsylvania on March 4, 1865.  Promoted to Full Lieutenant 1st class on July 5, 1865.  Mustered out on August 29, 1865 in Clarksburg, WV.

*Letter from Aaron to Pension Commissioner: , found in Civil War Pension Folder, National Archives, Washington, D.C.

John C. Block Esq.

Commissioner

Dear Sir:

  In reply:  While on duty, during a remarkable heavy and continuous rain fall, without shelter or change of clothing, when about two miles from camp in commanding the company on the night of the 9th of April 1986.   I contracted rheumatism for the first time, to which I am subject ever since.  While in service I used prescibed remidies, and bought the medicine in drug stores, and from discharge on the 28th day of Aug, 1865, to the present I was treated by Drs. J.Y. Shindel of Middleburgh PA.  MD. J.W. Rockefeller now of Gunnison Col.  Entirely disabed to do work on a farm, or follow surveying  I removed in 1866 from near Paxtonville, Snyder Co PA to Middleburg same county and state, where I have lived ever since in the capacity of a surveyor and a Justice of the Peace, but being frequently confined to my ded I am and was on an average disabled by half, at time entirely to follow said present occupation.

  Yours respectfully,

    Aaron K. Gift
From "History of the Gift, Kern and Royer Families" by Aaron Kern Gift, Middleburgh, PA.  (Snyder Co.)   copyrighted 1909.  Herald Printing and Publishing Company, Beaver Springs, Penna.
Republishing rights Higginson Book Company, www.higginsonbooks.com
Excerpts from:
LIFE AND TRAVELS OF AARON KERN GIFT.
CHAPTER ONE.
The author, Aaron Kern Gift, oldest son of John and Elizabeth Kern Gift, was born November 19, 1827, on the old Gift homestead, or farm, near where Paxtonville is now located, in Franklin township, Snyder Co., Pa.  This farm was purchased in 1793 by his great-grandfather, Johan Adam Gift, who came over from Germany in 1750…He began to teach at the age of seventeen years, and taught fourteen terms in succession, until he was past thirty-one years of age…On the 24th day of May, 1855, he married Amelia Royer, daughter of John and Catharine Gemberling Royer. She was a great-granddaughter of Christopher Royer, who came from Germany in 1748;…The writer and wife had three sons and two daughters, namely:  Charles Oliver, who died at the age of three years and four days; John Royer Gift, now at Dillon, Wyoming; Herbert Alvin, a solo clarinetist, late of Middleburg, Pa.; Minerva Jane, married to Prof. John H. App, of Akron, O., and Mary Elizabeth, married to Henry S. Stetler, of Middleburg, Pa….
The author was engaged in farming and surveying – serving several terms as county surveyor of Snyder county until the breaking out of the Rebellion.  In June, 1863, he enlisted in Company I, Capt. A. C. Simpson, 30th Reg't, Pa. Vol. Militia – Col. William N. Monies commanding the regiment.  He was promoted to orderly sergeant.  The regiment remained in the service until after the battle at Gettysburg.  When the emergency was over, the regiment was mustered out as per A. G. O. 103.  This regiment assisted in driving back the rebels from almost the city limits of Harrisburg, Pa., which city was threatened with an invasion by Gen. Lee's advance army, just before the great battle at Gettysburg.  The regiment rendered important service at Carlisle, and in other parts of the Cumberland valley, until Gen. Lee's forces were driven out of the state.  Our regiment, together with other troops, arrived at Carlisle, Pa., on the evening of June 27, 1863.  Gen. Lee's advance guard, commanded by Gen. Stuart, retreated during that day from Oyster Point, about four miles from Harrisburg, Pa., and were stationed at the Barracks, near Carlisle.  At about eight o'clock in the evening, Gen. Stuart's began to shell the town.  Our forces returned the compliment, and at about two o'clock in the morning of June 28th, Stuart's forces retreated towards Gettysburg.  Afterwards the War Department made a call for more volunteers, and seeing that his military services were further needed, he responded.  Captain Lewis Miller, Sergeant John H. Louis and the author commenced recruiting, and such was their success, that in one week's time they had their company filled to the maximum number.  This company was composed from some of the best military material in the county. 
The company reported to the department at Harrisburg, and was assigned to the 74th Reg't. Pa., Infantry volunteers, Colonel G. Hoburg commanding.  The regiment was then stationed at Green Spring Run, West Va.  This regiment did important service in the Potomac Valley, at Beverly, Clarksburg and Parkersburg, West Va.  The  author was promoted to Second Lieutenant in his company.  His commission being dated 2nd day of May, A.D. 1865.  Afterwards he was promoted to First Lieu't, his commission being dated the 23rd day of June A.D. 1865.  His regiment not having regular commissioned Adjutant, his colonel appointed him to that position.  He performed the duties of his appointment with credit to himself and to his regiment until a regular Adjutant was commissioned, when, being relieved, he rejoined his company.  His regiment was mustered out of service at Clarksburg, West Va., August 29, 1865, by reason of the close of the war, as per G.O. No. 94, C.S. war department, A.G.O….By an Act of the Penna. Assembly on April 5, 1870, R.F. Brown, of Union, Henry P. Trecziyulny (a Polish name) of Centre, John Swartzell of Mifflin, and the writer of Snyder county, all practical surveyors, were appointed commissioners, as representatives of the above named counties, to run and mark the boundary lines between the counties of Union, Centre, Mifflin and Snyder…In A.D. 1867 and 1868, the author, in connection with Joseph A. Lumbard, edited and published the "Snyder County Tribune," at Middleburg, Pa….
The author was elected to the office of county surveyor four successive terms, but afterwards refused to accept another term….He holds five Justice's commissions, his last one expired May 1887, giving him twenty-two years service, two years of which he served in Franklin township before he moved in 1866 to the borough of Middleburg, was elected Justice in his new district, and served twenty years in succession.  Afterwards he was appointed Notary Public.  At the spring election of 1906 he was again elected to the office of Justice in and for the Borough of Middleburg.  About twelve hundred civil cases are recorded on his old dockets, that were tried before him, besides a very large number of criminal cases….As a conveyancer, he has had much experience during his official career.  Up to this time, 1887, he drew about two thousand three hundred eighty nine (2,389) deeds of conveyance in real estate….
They arrived at Lexington, June 28th.  Following this, Mr. C.A. Edmonds appointed him as his deputy, and on July 9, 1890 he gave bonds for the true performance of his official duties, and was sworn in by the county clerk as Deputy County Surveyor, of Dawson Co., Nebr….The author served one year and four months as Deputy Surveyor, under C.A. Edwards, until the November election of 1891, when both Mr. Edwards and the writer were candidates for the office of County Surveyor on opposite political sides.  The writer was elected by a majority of eighty votes in the county….Likewise at the November elections in 1893 and 1895 the writer and Mr. Edwards, by nomination were political opponents for the same office.  The writer was still re-elected by increased majorities….In the November election of 1897, he had been nominated again, as a candidate for the office of County Surveyor, for the fourth time.  His political opponent this time was Mr. R. Sturneyk, a civil engineer and surveyor…The writer was again successful, his majority, this time, was 186 votes over that of his opponent, Mr. Sturneyk….
Under the statutes of Nebraska, all the state and county officers are elected for a term of two years.  Among the state officers, one is elected, whose office is called "Commissioner of Public Land and Buildings," who has charge of all the Public School Lands, Public State Buildings, and among other things, he is the custodian of 747 volumes of official field note books, sixty unbound volumes of new Surveys, 2400 official township plots, besides many loose plots, maps and plans.  All these are kept in a large fire proof vault, which is called the State Land Department….This Land Commissioner is not required to be a practical surveyor himself, but is authorized to appoint an experienced and practical surveyor for this purpose, and such an appointee is called State Draughtsman, but in reality, he performs the duties of State Surveyor….On Jan. 15, 1898, the Hon. J. V. Wolfe, Commissioner of Public Lands and Buildings, of the State of Nebr., appointed the author as his Draughtsman to take charge of this post Feb. 1st following.  The appointment was accepted.  Soon after this, the writer tendered his resignation as County Surveyor, to the commissioners of Dawson county, Nebr., and it was accepted….He had served a period of seven and one-half years in succession as County Surveyor of Dawson Co., Nebr.
As per his appointment he took charge of his office in the Capitol Building at Lincoln, Nebr., Feb 1., 1898….On April 8, 1901, his official term expired, and he retired; Mr. Alexander Schleyel taking his place under the newly elected Land Commissioner, G. D. Follmer….On Sept. 13, 1901, the writer and his wife made a visit from Lincoln, Nebr., to Capt. J. H. Louis and family, in Harlan, Iowa.  First Lieut. Louis was promoted to Capt. and transferred to Co. C., 74th Regt., Pa.  Vol. Inf., Second Lieut. Gift the author was promoted to First Lieut., Co. D., 74 Regt., Pa. Vol.  Capt. Louis and the writer had not met since the close of the civil war, in 1865, a period of more than 36 years….On Sept. 21, 1901, they moved back to Lexington, Nebr., their old home.
<![if !vml]>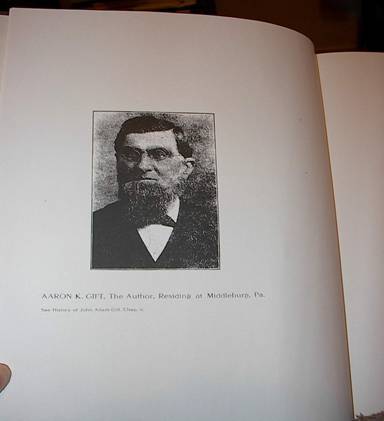 <![endif]>
<![if !vml]>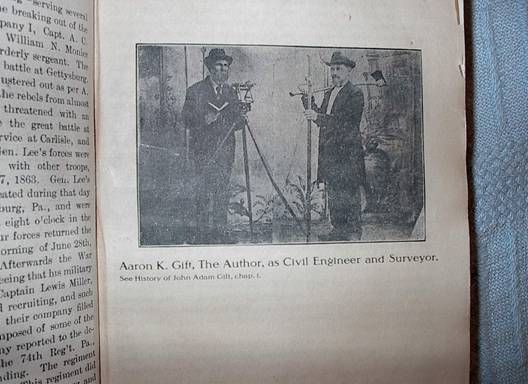 <![endif]>