74thers Meet in Pennsylvania
Gettysburg
(Reunion – East)
<![if !vml]>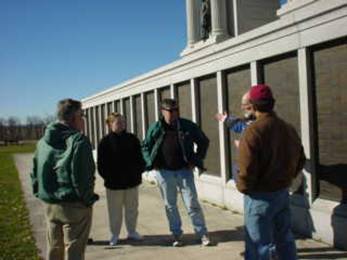 <![endif]>
The 74thers meet-up continued in November 2004 with group gathering in the historic town of Gettysburg on what was a beautiful, but absolutely chilling day. Those in attendance included Bret, Rod, Rhea Braun, Tracy Williamson, John Gray, Ed McLaughlin, Ed's brother William McLaughlin, Bert Sobers, and Suzanne Snook (briefly – she had to go to a wedding). Bret and Rod would later run into another 74th descendant, Rick Barber, but he was in town for a miniature war gaming convention! The group met at the Pennsylvania monument – here we are using it as a windbreak for it was about 50 degrees out – but that cold Nor'East'er dropped that temperature down to the mid 30s! Brrrr! Bret set the stage for events with the regiment. Folks, I said it there – but will repeat it here – Bret is an awesome tour guide! Truly. The details he can remember are remarkable and they come instantaneously to him.
<![if !vml]>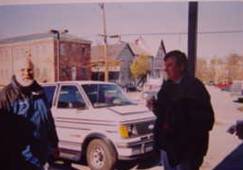 <![endif]>From here we went to what I refer to as the "Lemonade Stand" or "refreshment" stand – it's small 7-11 just south of where Lt. Roth was shot and killed on the 74th's retreat back into town. But, on its way through town on 1 July, the regiment had townspeople offer them water, lemonade, etc. as they double-quicked to the fighting north of the college. It's a convenient stop, for a lot of reasons, in that you can park and Bret can lay out events in that area, as well as yours truly getting a much needed dosage of southern ice tea! They also sell coffee and hot chocolate which proved to be a godsend on this trip!
<![if !vml]>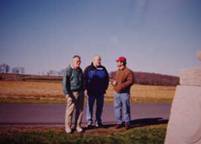 <![endif]>We headed to the 74th monument – recently restored and returned to its rightful place on the battlefield – on Howard Avenue. <![if !vml]>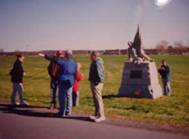 <![endif]>This was the initial deployment location for the first part of the 74th regiment. Remember, on the first day, the regiment was divided into two forces – one with the Division for pickets, the other part <![if !vml]>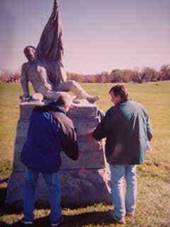 <![endif]>remaining with its Brigade as the 74th Regiment. The Divisional pickets would arrive at this position around 3:40-4:00 on 1 July. No further details – 'cause it's in the book! They were under the command of Von Mitzel and had a very special set of orders when they arrived to the chaos unfolding in front of them. Here Bret is explaining to William McLaughlin and John Gray (red cap) the repairs to the monument, while in the second picture Bret is answering questions about where the Confederates were coming from. You can see that the monument is back to its normal position. The repairs were very well done, the pinkish colors are a problem with the digital scan of my picture.
From here we headed back into town – following the various routes that the two parts of the <![if !vml]>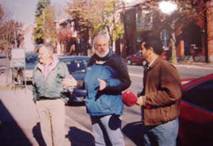 <![endif]>74th moved back to Cemetery Ridge. In the town square, events <![if !vml]>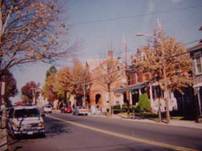 <![endif]>would transpire that would cause some leadership issues for the regiment as members were captured. We stopped at the Garlach house. Bret filled us in on the role of Confederate snipers and the skirmishes that would take place in the area between the Garlach house area and the Wagon Hotel just north of Cemetery Hill. He also explained how Schimmelfennig was found and why he was fixing breakfast in the brick house behind John and Bret when Gen. Schurz entered Gettysburg on the morning of 4 July 1863. Seen on the right here with the arch.
Our group then met up with Suzanne Snook, who provided a diary kept by her ancestor Amos Hackenberry who was in the "new regiment" – Bret was very happy to get that. Suzanne had to run to a wedding she was a part of that day, but it was great to meet this new resident of Gettysburg and fellow 74ther! We also were joined by Bert Sobers when we made it to the Farnsworth House.
<![if !vml]>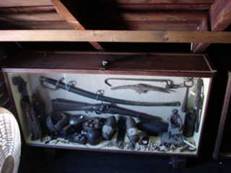 <![endif]><![if !vml]>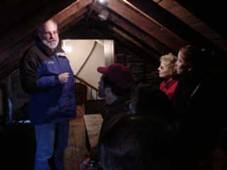 <![endif]>
In addition to being the "OFFICIAL RESTAURANT" of the 74th, this was during the battle a Confederate Sniper post with the attic being used for that purpose. We were allowed, thanks to the kindness of Eileen, to sit in the attic and have Bret explain to us what occurred in this area during the battle. The Farnsworth is a great restaurant, pub, bed and breakfast, and it has a heck of a bookstore! Let's just say it is a must stop place in Gettysburg for a whole lot of good reasons. Oh, and the 100+ bullet holes in the southside of the House – um – "our boys" were responsible for a lot of those.
<![if !vml]>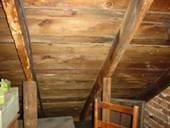 <![endif]>One of the other things Farnsworth House is known for is being haunted. It's one of the most haunted places in America. You can take a Gettysburg ghost tour from Farnsworth that is worth the time and the price. The guides are great story tellers and you never know what actually might be seen – or photographed. Now this shot of the attic is where I was standing…supposedly Walter a confederate soldier haunts this room. Not sure if Walter was there the day we were, but I will say something played havoc with my digital camera's battery while I was upstairs – it was perfectly fine when I went downstairs. Similar thing happened on the ghost tour with Bret and Joan's camera in the Spring.
<![if !vml]>

<![endif]>We went downstairs for lunch – and unbeknownst to us – the owner Mr. Schulz was our host! In the back of the pub, near the warm stove, we had a great lunch. Folks, a little unsolicited plug for the food, YOU WON'T HAVE A BAD MEAL HERE EVER! The food is remarkable and it is really a great place to eat and just ponder. For us, it was a great location to share information, stories, and thoughts about the battlefield. Thank you Farnsworth House for the great hospitality!
<![if !vml]>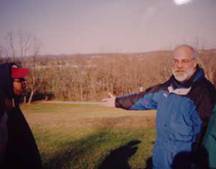 <![endif]>After a chance to get warm, well feed, and enjoy the camaraderie of a shared cause, we headed out to Cemetery Ridge and the eastern tip of that hill. Now, folks, there are a lot of reasons why our ancestors did not think highly of the 17th Connecticut – but I will let Bret explain those in the book. But, let's just say on the night fight at Cemetery Hill – the 74thers added yet another reason to shake their heads at the 17th Connecticut were over there as Bret is pointing. A few of us then walked from here into the Cemetery and saw where the second regimental marker for the 74th is situated. A few handshakes, hugs, and such and the 74thers headed back to their homes.
It was really a remarkable experience for Bret and I to meet up with everyone. We had the chance to meet NPS Historian Chuck Teague, who along with a colleague is working on interpretations for 11th Corps tours of Gettysburg. Also got to meet one of the licensed battlefield guides who speaks German – Edwin Clawsey. We left the National Park visitor center, as well as Rhea and Tracy (THANK YOU RHEA FOR YOUR HOSPITALITY AND TRACY FOR HER HELP!), and headed out to find an item my wife wanted. Well at the second giftshop, Bret says, "Hey Rod, were we missing someone from the tour today?" I commented on one person who was suppose to be there but who had said they were unable to make it at the last minute. Bret, then pointed to a guy in kepi and said well he's wearing the 11th Corps badge and the 74th – we were the only regiment in the 11th Corps with "74." So, I walk up to this guy and ask – "um, are by any chance a descendant of the 74th Pennsylvania?" Sure enough, Rick Barber is a descendant of the 74th his ancestor being William Englehart – and an award winning artist in the gaming field – who lives in Gettysburg and was there for a miniature gaming convention. I think we took Rick and his colleagues off guard – nice folks he was with who use to live in Washington State – but they recovered quickly and out in the parking lot we exchanged contact information and the like.
On the drive back to Bret's Virginia home, we both commented on the fact that there is always a few new things we learn at Gettysburg – and then always some new connections that come our way after visiting. This was the first time they happened to happen in a gift shop and its parking lot!