74th Graffiti
<![if !vml]>

<![endif]>
[NOTE:  The Blenheim Research Group lost Patricia Gallagher in 2003 when she unexpectedly passed away.  She was a remarkable resource and I will say that I benefited from her help, assistance and passion for "the boys" of Blenheim house.  This page is dedicated to her and her wonderful efforts!]
Located in the City of Fairfax, and not far from the Nation's Capital, is Blenheim House.<![if !vml]>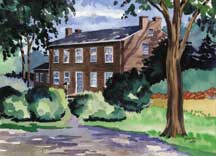 <![endif]>  A two story brick mansion built in the mid-1850s as an antebellum farm house that included a barn, slave quarters, and other out buildings. 
During the Civil War, Blenheim House, its out buildings, grounds and other homes in the neighborhood served as quarters for the Reserve Hospital system.  According to Patricia A. Gallagher, one of the researchers that make up the Blehheim Research Group:
Three hospital registers for the 11th Army Corps at Fairfax Court House, VA were found at the National Archives…more than 1,700 men are listed on the registers for that corps between October and December, 1862.
<![if !vml]>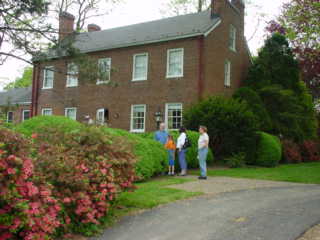 <![endif]>
Many men left their names on the walls of Blenheim House – sometimes referred to as the Brick House Hospital – was part of a larger complex that may have included hospital tents.  Four 74th soldiers left their name here at this house.  Today, there is a new interpretative and research center that includes a exact replica of the attic – no longer accessible to the general public.  The house is owned by the City of Fairfax.  It is open during the annual Civil War Weekend in Fairfax.
Bret, Lexie

,Joan

, and Cheri at Blenheim
The Civil War Weekend there at Blenheim is well worth attending.  Having visited during that celebration in 2004, I can attest to a great event for the family and the Civil War enthusiast.  Now, the only problem this Yankee saw was that the Confederates definitely outnumbered the boys in Blue by like 10 to 1.  However, where else can you meet Con. Gen. Robert E. Lee or Union Gen. Hancock at the same time?
<![if !vml]>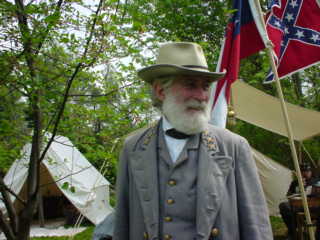 <![endif]>   <![if !vml]>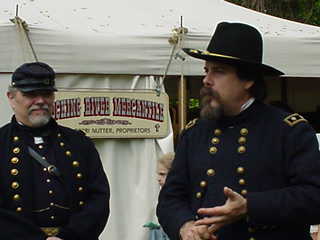 <![endif]>
Here are the names of the four individuals who took a few moments during the Civil War to "leave their mark" on Virginia – along with information as to what they signed…
<![if !vml]>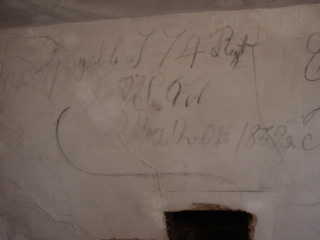 <![endif]>  <![if !vml]>
<![endif]>
BUSCH, Christoph, Pvt, Co E – in hospital Jul-Oct 1862 – signed his name and "from Pittsburgh."
FISCHER, Moses, Pvt., Co I – there in the Fall of 1862 – signed his name as "Moses Fischer"
GRUENNAGEL, Frederick, Sgt, Co I – there in the Spring of 1862 - signed his name.
SPIEGEL, Christian, Cpl, Co I – signed his name in various places with dates with two places dated 20 May 1862 and 18 Nov 1862 when he returned to visit a sick friend.  This later signature includes a sketch of him visiting his sick friend.
The Blenheim Research Group has more information on each of these individuals as part of their amazing efforts to learn more about each soldier that "left their mark" in this historic home.  Special thanks to the members of that group as well as to Andrea Loewenwarter and Patricia Gallagher for sharing their information with us!