<![if !vml]>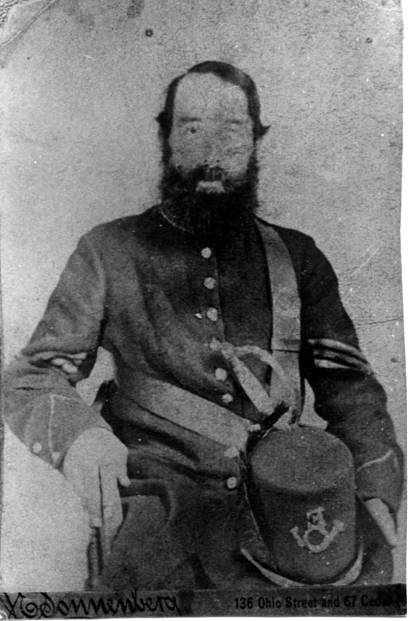 <![endif]>1st Lt. John Vonmos.  John was born in Rocheville (Ruswil?), Canton of Lucern, Switzerland on April 17, 1823.  He was living in Allegheny City area of Pittsburgh by 1855.  During the time of the Civil War, he lived in Reserve Township and after the Civil War in Troy Hill.  John had a carpentry business during most of those years.
John originally enlisted in the 7th Pennsylvania Regiment on April 25, 1861.  The 7th was a "90 day" regiment, After being discharge from the 7th in July as a private, John enlisted in Company E of the 74th on 9-14-61 at Camp Wilkins as a Sergeant in that regiment.
It appears that John had the following promotions while in Company E:
Sept.  21, 1862 from Sgt.  to 1st Sgt.
Feb 16, 1863 from 1st Sgt.  to 2nd Lt.
April 1, 1863 from 2nd Lt.  to 1st Lt.
While at Folly Island with the 74th, John became ill in January of 1864.  After many months of illness, John was discharged from the 74th Regiment in St. Augustine Florida on June 1st, 1864.
After returning home, John took over the running his carpentry business.  He died on October 13, 1869 when he fell 3 stories while repairing the roof of the Diamond House in Allegheny City You'll notice in the attach picture that it was originally printed backwards.  The "E" on John's hat is the tip-off.  John is in his Sgt. stripes.  It is believed that this was taken shortly after he enlisted in the 74th.  The damage to John's "eye" is actually from damage to the photograph itself.
Other variations of the surname include:  Vonmos, Vonmoos, Vonmoas, and Vonmoss.
Bio provided by his descendant.
431 Hunters Cove Court Lawrenceville, Ga 30044