Valley Forge
Rebirth of the Nation's Army
<![if !vml]>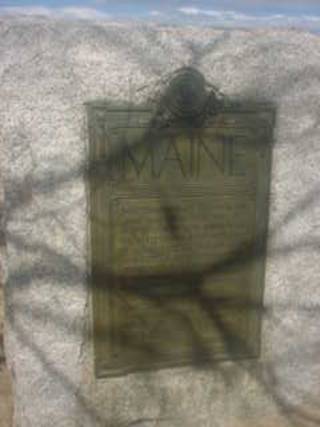 <![endif]>
Along a long knoll, behind (South) of the Visitor's Center, one comes across the monument to the soldiers who served at Valley Forge from Maine. The monument was dedicated in 1907 in recognition of the regiments that served, trained and survived the brutal winter at Valley Forge. While there, the army slowly became a trained fighting machine under the guidance of General Washington, his staff, and Von Steuben.
The winter was brutal and the demands on those that wintered there were harsh. The General offered a reward to the first group to build a cabin in each regiment and that motivated the men to build winter quarters.
Here is the staff listing for the 12th at Valley Forge courtesy of http://valleyforgemusterroll.org
:
12TH MASSACHUSETTS


DIVISION: FOURTH

BRIGADE: 3RD MA

HISTORY: ORGANIZED SPRING 1775 IN CUMBERLAND COUNTY.
ENTERED VALLEY FORGE DEC 1777 WITH 369 ASSIGNED AND 239 FIT FOR DUTY, LEFT VALLEY FORGE WITH 330 ASSIGNED AND 183 FIT FOR DUTY.
PREVIOUS ENGAGEMENTS: SIEGE OF BOSTON, LAKE CHAMPLAIN, SARATOGA, DEFENSE OF PHILADELPHIA, AND PHILADELPHIA-MONMOUTH
| | |
| --- | --- |
| Staff Officers | |
| Colonel | SAMUEL BREWER |
| Lt. Colonel | SAMUEL CARLTON |
| Major | TOBIAS FERNALD |
| | |
| Company Officers | |
| Captain | NATHAN WATKINS |
| Captain | ELISHA BREWER |
| Captain | DANIEL MERRILL |
| Captain | SILAS BURBANK |
| Captain | JAMES DONNELL |
| Captain | JOHN CHADWICK |
| Captain | JOSEPH JENKINS |
| Captain | ENOS STONE |
| | |
| Staff Officers | |
| CHAPLAIN | |
| QUARTERMASTER | INGRAM WHETING |
| ADJUTANT | WILLIAM BATEMAN |
| PAYMASTER | ELIJAH WARREN |
| SURGEON | PALETIAH WARREN |
| SURGEON MATE | JOSIAH WATERBUSE / JOSEPH GARDNER |
| QUARTERMASTER SERGEANT | DARIUS HOWE |
| SERGEANT MAJOR | JOHN GIBSON |
| DRUM MAJOR | JOHN WHITNEY |
| FIFE MAJOR | WILLIAM COOMER |