FRANK XAVIER LEYENDECKER
By Mona Nevins
FRANK XAVIER LEYENDECKER - painter and illustrator. Born in Germany in 1877. He came to America with his family in 1883. He studied at Chicago Art Institute and in Paris at Julien Academy, pupil of Laurens and Constant. He was also a designer and painter of stained glass windows. He died at a early age of his career.
The parents of Joseph Christian and Frank Xavier were Peter Leyendecker and Elizabeth Ortseifen. They were married May 1869 at Wirzenborn. The Leyendeckers were of Dutch ancestry, coming to America in 1882 from Germany. There is a daughter and Frank at thirteen years of age had foregone education beyond the elementary level to apprentice to Carl Brandt from Vanderpoel, Vienna.
Frank Leyendecker enrolled in the 'life class' the evening class at the same time that his brother was taking both day and evening courses in 'costumed and nude life, composition'.
Frank was eighteen when he went to Paris with his brother Joseph, not only to study but also to provide companionship. Their first sight of Paris in 1896 which they had so long saved for and so eagerly awaited study there must have been overwhelming with architectural splendor, gaiety and sophistication of the city. A Charcoal study of Frank was the catalog cover of Joseph Leyendecker's one-man exhibition at the Salon Champs du Mars in April 1897. They spent a total of two years at the Academie Julien in Paris.
Both brothers sailed for America in August 1897 and in September they opened a studio in Chicago's Stock Exchange Building. Frank was then twenty years old. He did not have the same determination to reach the top. After accepting commissions, he would often delay, - sometimes the jobs would be offered to other artists.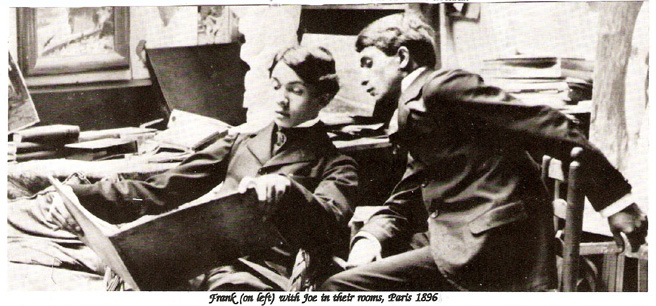 In 1899 the two brothers decided to move from Chicago to New York City and there established a studio at 7 East 32nd Street. Then in 1914 they built a 14 room mansion on Mt. Tom Road in New Rochelle. As a young man Norman Rockwell idolized these two great talents, especially Joseph, and took every opportunity to catch a glimpse of him.
We should be able to understand the difficulties Frank experienced throughout his life - he was the "other Leyendecker." In the early twenties, tensions at the mansion began to mount and Frank moved into an apartment - studio in New Rochelle. But in 1924 on Good Friday (in April) Frank died at the age of 47.
Frank X. Leyendecker left an art legacy that few will contradict as proven by these outstanding examples of his art and illustration. He did covers and advertising for Saturday Evening Post, Vanity Fair, Vogue, Collier's, Life and other periodicals, as well as book illustrations.
His brother Joseph lived until 1951. Norman Rockwell in his book tells about the funeral J.C. Leyndecker and how it saddened him. He had looked up to Joseph since he was a teenager. He tells how the two brothers resembled the Arrow man, so nattily dressed, stepping smartly down the street with black & white shoes, in fashion then, and white trousers, navy blue jackets with shiny brass buttons. Rockwell was greatly influenced by Leyendecker's covers and he was the only artist to paint more for Saturday Evening Posts.
With the on going resurgence of interest in illustrators today those of the Leyendecker period were giants in the area of artistic talent. His and other original works are bringing five figures and more at auction and those who cannot afford an original are happy with each new find of a cover, advertisement or booklet illustrated by the Leyendecker brothers, or even a tiny tail piece from a magazine that bears the mark of the man.
2013 "THE PRICE & ID GUIDE to JC & FX LEYENDECKER", 5th, edition, contains publishers, titles, dates of original issue and prices on over 370 of their Saturday Evening Post covers, + 100s of other covers they illustrated for various other periodical publications from the late 1890s forward. +100s of ads, illustrations, paper, books, posters, window posters, military and more. Plus, his brother F.X. Leyendecker and all of his illustrated works are listed as well. $7.95. Available for purchase as a PC CD Below or as KINDLE GUIDE at Amazon, click on illustration below, to view sample sections and illustrations in this guide. Thank You.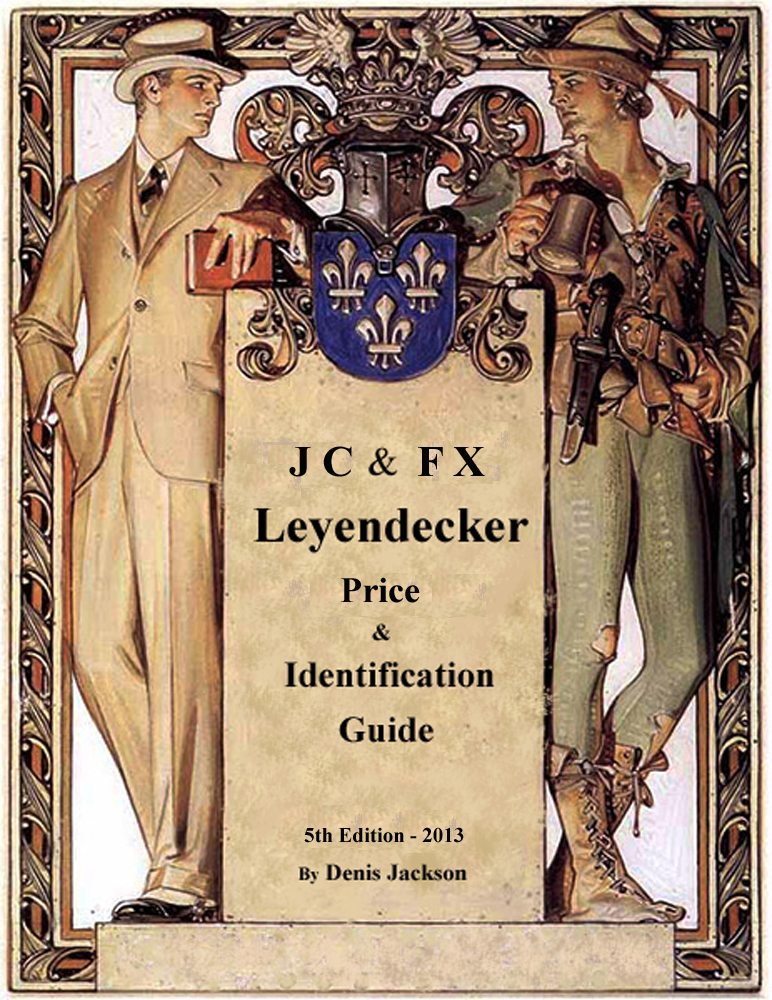 For the new PC CD, with simple to use, browse and guaranteed to open and be virus free on your personal computer, so get our Leyendecker's 2013 Price and ID Guide, 5th edition for only $7.95, $3.95 = $11.90 total and includes ship. mailer and disk costs. You may use Pay Pal to pay for from the ADD TO CART BUTTON BELOW
Or send check or Money Order made out to:
TICN: Denis Jackson, POBox 565, Ash Fork, AZ. 86320.
Our website www.olypen.com/ticn "The Illustrator Collectors News" and is mainly supported by fellow collectors who purchase one or more of our price guides to support the site. This is strictly Voluntary there is no obligation to do so when placing your free classifieds from: www.olypen.com/ticn/pics.htm But, if those using this site should consider making a modest guide purchase. A future fee will then never be needed for our sites. By selling more of our popular and exclusive guides by TICN and giving you free ads to you now we can grow and expand and bring in new members. In future this site will offer reviews on books, videos, CDs, Shows and other information relating to COLLECTIBLES. There have been more then 10,000 Illustrators who have worked in the Illustration & Art area over the past one hundred years and we are the only site that truly specializes in all of them and have for 40 years. Illustrators of the past created some the most beautiful art and quality color lithographic paper collectibles ever! Some pieces bring $1,000s of dollars for a single mass produced work on paper. In the area of magazine covers alone it is not unusual for a cover from the teens or the 1920s done by a popular Illustrator to fetch $100.00 or more each! Why such high values? Because of the fine lithographic printing quality of those times; which make many of these works miniature, jewel-like posters of stunning color and form and rarity, as each passing year this old paper becomes scarcer and scarcer. Created works as these are highly frameable as well. Of the 10,000 Illustrators of the past many can be found at our website because we specialize in them.
---
---
---