MAXFIELD PARRISH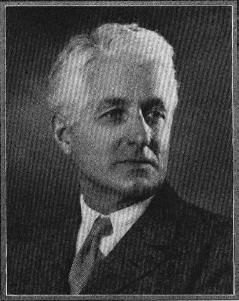 by William D. Moffat
---
The publication of the book "Poems of Childhood " by Eugene Field, with illustrations by Maxfield Parrish, stirs anew the enthusiasm that this artist's work almost invariably arouses. Mr. Parrish is one of those rare illustrators who never disappoint. There is always something to admire in his work, and in most of his pictures a cause for genuine delight. The position of Mr. Parrish in the field of modern illustration is unique. His work is strongly individual, and possesses qualities so original that imitation brings instant betrayal with it. His pictures and decorations have a distinct place of their own in modern American art, and they have won for him a special kind of admiration, differentiating him in the public mind from his contemporaries. His public is a wide one, including the students of art, who finds satisfaction in his supremely clever technique; the thoughtful man, who is impressed by the highly imaginative poetry regaled in his work; and the average person of taste, who is charmed by the richness of his color compositions. His work, while enjoying popularity, at the same time wins the most exacting critic. A curious thing about Mr. Parrish is that he seems never to have had a term of apprenticeship, but appears to have arrived full-fledged and finished in his art. His earliest work reveals the qualities that have won distinction for him, and nothing that has appeared from his pen or brush shows a touch of immaturity. One is impressed almost at the first glance by the exceeding care shown by Mr. Parrish in his drawing. He is conscientious to a degree that permits no work to go from his studio unfinished. In the early days, when asked to submit a sketch for consideration, he said: " I will show you a completed design; it is easier for me to do that than to make a sketch." When we recall that "the early days" means only about six years ago, we realize how rapid the progress of Mr.Parrish has been.
He is now scarcely more than thirty years of age. He comes of old Quaker extraction and has a heritage in art! For his father, Mr. Stephen Parrish, is a painter and etcher of ability. Mr. Parrish graduated at Haverford College and then entered the Pennsylvania Academy of Fine Arts, after which he studied for a time in the class of Mr. Howard Pyle at the Drexel Institute. The first designs that brought his name to public attention were two posters, each of which won prizes in a competition in 1897. One of these posters was made for the Pope Manufacturing Company, the other for the August number of the " Century Magazine." These designs led to the making of magazine covers, and in this field Mr. Parrish won a place of distinction at once. During several succeeding years there appeared on the covers of some of the leading magazines a number of exquisite, poetic designs that made Mr. Parrish's name widely and favorably known. His fine decorative effects in deep purple forest or sunny blue sky, in delicately modeled figures or formal classic architecture, were something new in the art of cover designing, and they became standards of beauty of their kind.
Mr. Parrish has from the beginning revealed a special talent for decoration, and though he has become celebrated as an illustrator, his first productions were of a decorative character. Notable among these was the mural decoration of "Old King Cole " on the walls of the grill-room at the Mask and Wig Club of Philadelphia, a design which has since been reproduced and widely enjoyed, not only for its drawing but for its delicious humor. There is humor in much of Mr. Parrish's work, and of the finest kind. The humorist in him, however, is balanced by the poet, and frequently the two are exquisitely combined. The poetic vein in his nature is exalted and spiritual, the humor quaint and whimsical. Both find ample expression in the illustrated edition of Eugene Field's " Poems of Childhood" just published. In these charming verses--not inaptly characterized as " chapters from the gospel of childhood " --Mr. Parrish's talents have found the best possible scope. There is in his illustrations the same ingenuous, childlike frankness, the same whimsical humor and delicate pathos that we find in the text. The spirit of the illustrator not only pervades the verses but envelops them as well, extending even to the cover. In fact, the cover design is one of the best things about the book. The slender, graceful boy and the huge giant, gazing in mutual wonder and amazement is a characteristic example of Mr. Parrish's humor, and one of his most pleasing color compositions. Mr. Parrish is at his best in color. His palette is rich and full; his use of color strikingly effective, both as a means of artistic and of poetic expression. The picture of " The Sugar-Plum Tree " is full of the splendidly somber shadows wherein the child-imagination expands; the pale mists that envelop Wynken, Blynken, and Nod are steeped with the mystic charm of childhood's dreams, partly veiling, partly revealing, the wonderful sights and the beautiful things on the " river of crystal light." The picture of " Little John and his Sister Sue," while irresistible in its humorous aspect to older folk, is both in spirit and in composition a monument of child pathos. The figures of tousle-headed and knickerbockered John, and Sue with cap and checkered gingham, are most actual and realistic. Pedestaled on high, and silhouetted against an ideal landscape and glowing sky, they present a contrast that plays havoc with one's emotions. " Seein' Things at Night" is a composition, we venture to say, that no child can look upon with composure. The foreground of the picture, where the blue-and-white counterpane of the bed falls toward The floor, shows Mr. Parrish in his most careful mood, working out with amazing technique the folds and squared pattern of the fabric. The shadows beyond the bed are filled with monstrous " things standin" in a row, and lookin' at me cross-eyed and pointin' at me so." In this field Mr. Parrish's imagination passes even beyond the text, and conjures up a group of night ogres before whom even the boldest of us must shiver.
Perhaps the most beautiful and poetic of all the compositions in the book is the picture that accompanies the poem of " The Dinkey-Bird," showing the figure of the child swinging in space from the limb of the Amfalula-tree, in the land of Wonder-Wander, by the " ocean 'way out yonder." It seems to us that Mr. Parrish has made no illustration more exquisitely charming than this, in color, in composition, and in poetic feeling. With the picture before us we read the poem again and find new meanings in it. It is more than an illustration; it is an illuminating interpretation. One can linger long over these pictures and come back to them eagerly after laying them down.
It is not only in the things that he has done that Mr. Parrish is interesting; it is in some of the things that he has not done. His imagination finds expression not only in warm, rich tones and a glow of color, but, when other ends are sought, it employs the most subdued effects, and at times it rests on empty spaces. He knows as few artists do the full value of white paper, and the fine finish of his work and his cleverness in detail is equaled by his taste and good judgment in the matter of what should be left undone. Referring once to a very eloquent bit of white paper in one of his drawings, he said, in his quaint manner, " That is one of the best things I didn't do."The illustration of the Flyaway Horse in the Field book presents an example of the curious contrasts to be found in some of Mr. Parrish's compositions. There we find white paper, a simple, decorative flat background, and two of his grotesquely comical figures standing on an elaborately tiled floor, the figures and the flooring worked out with the fullest detail, in contrast with the simple background. Mastery of small detail is characteristic of Mr. Parrish. We continually wonder at his patience and painstaking care. And yet, with all his elaboration of detail, there is in his work a classic simplicity- and a largeness of idea that place his pictures among the enduring things of art. Each new work of his is in a way a new revelation, and it would be hard to fix the limit of his powers.
(editor's note) This article was written just after the turn of the Century for a popular magazine of the time and is from the archives of The Illustrator Collector's News.
2,013 "THE PRICE & IDENTIFICATION GUIDE to MAXFIELD PARRISH" 12th Edition. Now on PC CD ! All Edison-Mazda's calendars pictured in full HD color, also: Brown & Bigelow's, House of Art, Reinthal - Newman, Dodge Publishing, Broadmoor, Century Publishing, Life, Collier's, Curtis, Scribner's & Son's, prints, books, magazines (covers, advertising pages, internal illustrations, articles), calendars, portfolios, playing cards, reproductions, and many spin-off items + Many new/old finds. 5 Star future Investment ratings so you will know what is in demand and rare . Needed for today's reference and into the future. A condition rating system. Plus a simplified reproduction Identification system and listing with sizes of the same (most of which were different sizes then original prints & calendars .) Also all original prints and calendars have exact measurements listed in the guide to within 1/16" of the original early works, another useful tool so you will not be fooled by reproductions. Only 500 copies of this guide were ever printed, now making this guide a collectible itself. It was also written by a collector, dealer and buyer of Maxfield Parrish for over 30 years. The few copies of the 11th edition guide that are out there are mostly in the hands of the serious MP collectors who were subscribers to our paper publication that dealt exclusively with buying, selling and collecting illustrators and their old paper collectibles. Two other Parrish price guide publishers in the past few years used this guide to determine values for their own poorly researched guides! This KINDLE brand new edition guide is the most recent and up to date for values and information. Published by TICN. Denis C. Jackson, author… ON a PC CD NOW from TICN!
The new 2013, 12th edition Maxfield Parrish Guide is NOW available for $9.95 postpaid and is released in electronic book form as a Kindle book through Amazon, so check with Amazon if you wish to purchase this instead of the new 12th edition as a CD format. No 12th or future editions will not be in paper, electronic formats or CD only. CLICK ON PICTURE BELOW AND ITS LINK WILL TAKE YOU TO AMAZON BOOKS WITH THIS GUIDES REVIEWS, SAMPLE SECTIONS OF THIS GUIDE FOR YOU TO VIEW FOR FREE AND INSTANT PURCHASE OF THE 12TH EDITION WHEN THERE IF YOU WISH.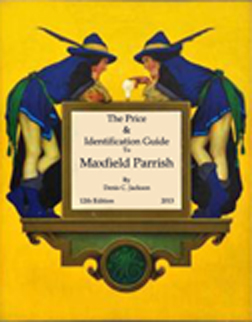 For the PC CD, with simple to use, browse and guaranteed to open and be virus free on your personal computer, so get our Maxfield Parrish 2013 Price and ID Guide, 12th edition for only $9.95, $3.95 = $13.90 total and includes ship. mailer and disk costs. You may use Pay Pal to pay for from the ADD TO CART BUTTON BELOW
Or send check or Money Order made out to:
TICN: Denis Jackson, POBox 565, Ash Fork, AZ. 86320.
Also, our older 2,000 - 2,001 edition of The Maxfield Parrish Guide, 11th PAPER EDITION ONLY! $9.95 +2.50 ship = $12.45
Just a few left of this older paper edition left, great for reference, you may purchase this 11th EDITION from Add to Cart button below.
or from mailing address given in former yellow paragraph above.
Our website www.olypen.com/ticn "The Illustrator Collectors News" and is mainly supported by fellow collectors who purchase one or more of our price guides to support the site. This is strictly Voluntary there is no obligation to do so when placing your free classifieds. www.olypen.com/ticn/pics.htm But, if those using this site should consider making a modest guide purchase. A future fee will then never be needed for our sites. By selling more of our popular and exclusive guides by TICN and giving you free ads to you now we can grow and expand and bring in new members. In future this site will offer reviews on books, videos, CDs, Shows and other information relating to COLLECTIBLES. There have been more then 10,000 Illustrators who have worked in the Illustration & Art area over the past one hundred years and we are the only site that truly specializes in all of them and have for 40 years. Illustrators of the past created some the most beautiful art and quality color lithographic paper collectibles ever! Some pieces bring $1,000s of dollars for a single mass produced work on paper. In the area of magazine covers alone it is not unusual for a cover from the teens or the 1920s done by a popular Illustrator to fetch $100.00 or more each! Why such high values? Because of the fine lithographic printing quality of those times; which make many of these works miniature, jewel-like posters of stunning color and form and rarity, as each passing year this old paper becomes scarcer and scarcer. Created works as these are highly frameable as well. Of the 10,000 Illustrators of the past many can be found at our website because we specialize in them.