Zoe Mozert

by Marianne Phillips

My first impression upon meeting the 83 year old Zoe Mozert in Arizona was astonishment. This tiny, graceful lady had such a presence, she seemed to fill the whole room. Within minutes Zoe was flirting shamelessly with my husband, Jerry, who immediately fell under her spell. We discussed compiling a book of her lifes work, Zoe stressed, "Any story you write about me, like my life, has to begin and end with love"!

Zoe Mozert was born Apr. 27, 1906, in Colorado Springs, Colorado . Named Alice Adelaide Moser after Adelaide Thurston, the actress. Her loving parents were both talented artists and crafts people. In 1921 she with her family moved to Scranton , Penn. , where she started high school. At sixteen, Zoe, was every bit the dark-haired gamin. At 17 she entered the Philadelphia School of Industrial Arts under a scholarship program. This is the same college Maxfield Parrish studied at years earlier. Under the tutorship of Thorton Oakley. "He taught me three rules for the artist," said Zoe. "Have one thought only. Live in your picture. And love your subject--as long as it's not your best friends husband." Giggling she added, "It helps to have a sense of humor, too."

In 1928 at the age of 21 she met a 17 year old hitchhiker named Louis D'Arcourt in New Orleans , they were married for two months then divorced. "He told me he was 22 Zoe stated indignantly. "The best thing about him was his name."

Her first big break occurred in 1933 where she submitted a pastel of her younger sister Marcia to True Story Magazine. She was paid $75.00 for this one work. Next she won a competition for a movie magazine cover, which featured Greta Garbo. At this same time she changed her name slightly, making Moser into Mozert and dropping Alice in favor of Zoe (pronounced Zo'ee as in showy.)

By 1938, at the age of 31, the golden girl has already painted over 400 covers for movies magazines, and True Confessions. She worked for several publishers, including Fawcett, Dell, Street & Smith and King Features. Zoe also illustrated national campaigns for Wing, Raleigh and Kool cigarettes, Mentholatum, Dr. Pepper and several beauty products. The later illustrations featured beautiful, pouty girls, with "Those lips you'd love to kiss"

While in New York she gained a reputation for snappy retorts, catchy phrases, and pithy comments. Among her peers they were referred to as "Zoeisms." When asked about love, she quipped, "It hurts so bad, but feels sooo good!" A Zoeism about her work as, "Always keep yourself bigger than your job."

In 1938 Zoe did numerous covers for American Weekly Magazine owned by William Randolph Hearst. At one point nine of her covers were on the newsstands simultaneously, a record that has never been equaled. Then something unforeseen happened. Photographic covers, from about the mid-1930s they began to dominate the media and within a few years were in the forefront.

In 1941 Zoe was experimenting with pinups and studying the works of Gil Elvgren and George Petty. Just a wisp of a girl, under five feet tall, with a 22" waist, flashing blue eyes, and a madcap personality, Zoe Mozert jumped, with both tiny feet, into the hitherto man's world of the pin-up! She painted some unclad cuties and sent one to Esquire's publisher David Smart. He then summoned her to Chicago >>> where she was commissioned to do several nude paintings. Esquire did buy 12 of her paintings, though none were ever printed in that magazine. Zoe was also being considered as a replacement for Varga & Petty. While working for Esquire on assignment, Orion Winford, art director for Brown & Bigelow (the then nations largest calendar company) saw one of her nudes at a gallery. A week later he visited her studio and offered her a contract with B&B. Being an astute businesswomen she signed. Her first nude published by B&B was titled "Sweet Dreams", it became the company's #1 seller in 1943.

Zoe was to remain with B&B for more then 26 years. Doing such nudes as, "Reaching For The Stars", "Bubbles", "Morning Song", "Sun Goddess"; and girl heads such as... "The Sweetest Flower", "My Dream Girl", "For You A Rose", "American Beauty", and "Bewitching Eyes". They were all successes, especially the nudes.

In 1942 WWII was in full swing and so was Zoe. Besides her calendar work, she painted a series of saucy maids called Victory Girls which were printed Postcard size) and made available to servicemen (know as V-Mail.) Also at this time she met Don Kirkley (one of Washingtons top Newspapermen), she married him and moved to Washington , D.C. . In 1943 they both moved to Hollywood . Shortly there-after was became single again. Paramount Pictures did a short titled: ZOE as part of a film series of "Unusual Occupations." ZOE featured Zoe as "the pin up girl who paints'em too". Paramount paid her $5,000. for her part.

In 1945 Howard Hughes commissioned Zoe to do the movie poster for "Outlaw" staring Jane Russell. Zoe's painting was splashed on billboards across the country. Next Warner-Brothers contracted her to do Petty type pin-ups for the movie "Never Say Goodbye" which starred Errol Flynn. During the making of this film Flynn invited her for a swim at his house, "It was one of the few regrets of my life that I didn't go" Zoe said "We were kindred souls". The unused Esquire nudes of the past were also used in this movie. First though Zoe had to cover their unadorned curves with bathing suits. Throughout the late 1940s she continued to work on various projects in Hollywood .

In late 1949 she met a young carpenter named Ray "Jeep" Osterman. They were married. In December 1951 Zoe became pregnant though miscarried. By the end of 1952 she was divorced.

Moving to Arizona in 1953 she continued to work for B&B. Her workload was about 4 calendars for them a year. By 1960 she was receiving $4,000 to $5,000 per painting. The price she was paid was higher then any other B&B artist with the exception of Norman Rockwell.

When asked about some of the pin-up artists she knew and/or worked with, Zoe made these comments: GILLETTE ELVGREN: "I just loved him! He was crazy and adorable and funny. The bad thing was that he drank too much; which is what killed him. But he sure was the life of the party!" EARL MORAN: "He was a nice man and smart; look how he latched on to Marilyn Monroe! We had some good times together at B&B conventions. I remember he had a very young girl friend." TED WITHERS: "He was 5'10" and just delightful. A real charmer! Ted was from New Zealand . He was very intelligent and made tasty souffle. He worked for Columbia Pictures, for over 10 years, doing the fancy scrollwork around movies titles. He got tired of that and decided to do pinups. I talked to Shaw-Barton and they agreed to look at his work, so Ted painted a beautiful figure. But when he got to the face, he was stuck; he couldn't get it right. I told him to take a little nap and I'd fix it. I put a wonderful face on that body! Shaw-Barton hired him and bought the picture! I had a pretty good crush on him, but he had this girl he was nuts about. I saw her once. She had a figure that wouldn't quit! When that little trollop whistled, Ted ran!" EARL MacPHERSON: "He was a wonderful fellow! Great Fun. He had a terrific personality...maybe too terrific! Women found him irresistible." ROLF ARMSTRONG: "We never hit it off. I first met him in the 30s when I went to his studio and offered to model for him. He said "maybe later." After I went to work for B&B I saw him at a party given in my honor, to celebrate success of "Sweet Dreams". I reminded him of how we met. He was cool." GEORGE PETTY: "Another party guy! We met in 1938, when we where judges for the Miss American Contest in Atlanta City .

No female illustrator, living or dead, can compare to Zoe in output or longevity of career. This is all the more impressive because she invaded, and conquered, a territory once completely dominated by men! Those of her paintings produced for B&B alone, have sold over 50,000,000 copies around the world.

Zoe Mozert the great lady of Pin-up art died Feb. 1, 1993

2012 "THE PRICE & ID GUIDE to PIN-UPS & GLAMOUR ART", 3rd Edition. ON PC CD and as a Kindle book. Now covers all 50 American Pinup artists; the works of Rolf Armstrong, Gil Elvgren, Earl Moran, Billy DeVorss, Zoe Mozert, Enoch Bolles, Peter Driben, Mabel Harris, Gene Pressler, T.N. Thompson, Fritz Willis, K.O. Munson, Art Frahm, Jules Erbit, Earl MacPherson, Bill Ward, and many, many other Pinup Artists. Values and dates given for each Calendar, Print, mutoscope card , original artwork, playing cards, illustrated advertising , magazines: covers, gatefolds, cartoons, notepads, ink blotters w/titles postcards & more that each artist created. With sizes, values, dates on each item... This guide is Now available as a KINDLE BOOK, through Amazon and free to borrow for a short time through Amazon Prime Library Or you may purchase this guide through Amazon/Kindle books for $8.95 postpaid. No further paper editions are planned. The paper editions of the past are becoming most rare and sell for up to $25.00 each used online. Author Denis Jackson is a dealer and collectors of illustrators and their paper collectibles and has been for 40 years. Present and past editions Printed and Copyrighted by TICN publishers. ISBN: 1-888687-02-9.CLICK ON PICTURE BELOW AND IT WILL TAKE YOU TO AMAZON BOOKS WITH REVIEW, SAMPLE SECTIONS OF GUIDE YOU CAN VIEW FREE AND INSTANT PURCHASE OF THIS NEW 3RD EDITION THERE IF YOU WISH.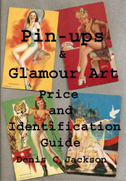 For the PC CD, with simple to use, browse and guaranteed to open and be virus free on your personal computer, so get our Pin-ups & Glamour Art, 2012 Price and ID Guide, 3rd edition for only $8.95, $3.95 = $12.90 total and includes ship. mailer and disk costs. You may use Pay Pal to pay for from the ADD TO CART BUTTON BELOW
Or send check or Money Order made out to:
TICN: Denis Jackson, POBox 565, Ash Fork, AZ. 86320.
Our website www.olypen.com/ticn "The Illustrator Collectors News" and is mainly supported by fellow collectors who purchase one or more of our price guides to support the site. This is strictly Voluntary there is no obligation to do so when placing your free classifieds. www.olypen.com/ticn/pics.htm But, if those using this site should consider making a modest guide purchase. A future fee will then never be needed for our sites. By selling more of our popular and exclusive guides by TICN and giving you free ads to you now we can grow and expand and bring in new members. In future this site will offer reviews on books, videos, CDs, Shows and other information relating to COLLECTIBLES. There have been more then 10,000 Illustrators who have worked in the Illustration & Art area over the past one hundred years and we are the only site that truly specializes in all of them and have for 40 years. Illustrators of the past created some the most beautiful art and quality color lithographic paper collectibles ever! Some pieces bring $1,000s of dollars for a single mass produced work on paper. In the area of magazine covers alone it is not unusual for a cover from the teens or the 1920s done by a popular Illustrator to fetch $100.00 or more each! Why such high values? Because of the fine lithographic printing quality of those times; which make many of these works miniature, jewel-like posters of stunning color and form and rarity, as each passing year this old paper becomes scarcer and scarcer. Created works as these are highly frameable as well. Of the 10,000 Illustrators of the past many can be found at our website because we specialize in them.