STARTS WITH A GROWL, ENDS WITH A PURR
By EARL MORAN: This article written by Earl in the late 1940s


It all began with a small kerosene lamp in the town of Clinton, Iowa. My first recollection of doing any drawing was at the age of five or six. Getting out of bed at four in the morning, I'd light my small kerosene lamp and start working.
My favorite subjects in those days were wild animals, especially lions. I still get a kick out of watching the big cats on television whenever African hunting scenes are shown. I guess I must always have had a secret desire to own one as a pet, but such yearnings have had to be satisfied with less ferocious creatures and I've had four Chow Chows at different periods of my life.
During my school years in Clinton, and until I finished high school, I made many cartoons, mostly of my teachers and of humorous incidents that happened at school. These were usually passed around the classes without the teachers ever seeing one. If they ever had, chances are I would have been expelled.
Around that time, my artist heroes were Charles Dana Gibson, James Montgomery Flagg, and Coles Phillips, whose stocking ads and magazine covers were the sensation of the day. After graduating from high school, and knowing how little the idea of work appealed to me, I considered a career in art. Drawing didn't seem to be anything but fun and I just naturally took a train to Chicago and enrolled in the Art Institute.
Art work was tougher than I expected, but also a lot more interesting. I had to work in the school library for my tuition, in cafeterias for my meals, and sometimes in theater checkrooms for extra cash. But I kept a sketch pencil and pad going all the time and was enjoying every minute of my life.
After two years of basic training at the Art Institute, I enrolled in the Art Students' League of New York and studied with such masters as Vincent Dumond, Robert Henri, Thomas Fogarty, and the famed anatomist, Bridgman.
I'm afraid I didn't learn too much, possibly because I was not in the best of health. A medical check-up showed symptoms of lung trouble and I had to give up my art studies and go to a milder climate. The doctors told me I could never work indoors again, so I moved west to Los Angeles and took odd jobs driving a truck, moving furniture and delivering packages for a department store, The Broadway Downtown.
At the end of a year and a half and with some added twenty pounds, I was again on the train bound for Chicago. I arrived with $11 and by lunchtime of the same day had found a job at $15 a week with an engraving company. Inside a couple of years I was doing men's fashions with the Vogue-Wright Studios for Sears, Roebuck and Montgomery Ward catalogues. I managed to save some money and moved on to New York and went to work for another art studio.
I really was fed up with the routine of this kind of work and wanted to try something on my own, so after a year and a half, I returned to Chicago determined to try free-lancing. I painted two pastels of bathing girls, 30"x40" and shipped one to an Iowa calendar company and the other to Brown & Bigelow in St. Paul, Minnesota. I was astonished when both sent back goodsized checks and requested more of my work as soon as possible.
Brown & Bigelow wired me to come to St. Paul as their guest and while there, to make another painting for them. I guess they just couldn't believe I could do another one as well. I showed them I could and by the end of the week I had signed a contract to work exclusively for them in St. Paul.
It was the beginning of about a quarter of a century of exclusive calendar girls and as far as I'm concerned there's been no more enjoyable work in my life. I started the job with an enthusiasm that has never dwindled and by the end of three years, I was in my own studio in New York with a substantial increase in salary plus all studio and model expenses paid by Brown & Bigelow. My penthouse studio atop the McCutcheon Building on Fifth Avenue at 49th Street became known to cafe society celebrities and to all the popular artists in the New York area.
During my first few months there, life moved fast. I was invited to judge my first bathing beauty contest at Coney Island to pick Miss Empire State. John Powers of the famed model agency, and Irving Hoffman, the publicist, drove me out to George C. Tilyou's Steeplechase Park. Milton Berle was there, not as a judge but to try out his jokes on the judges. It was a real thrill to see myself on the Pathe newsreel later, measuring the top dimensions of the winner, who later posed for many of my calendar pictures.
Other contests followed in Albany, Staten Island, and in New York City itself. Life Magazine phoned one day and invited me in for a chat, which resulted in a color display of my art. There have been three issues of Life in which my work has been featured.
My name and samples of my art appeared frequently in magazines and newspapers during the Forties, and gossip columnists in particular seemed to enjoy doing tidbits about me. I never quite understood all this attention. I was just interested in painting girls for calendars, that was all. Yet mail arrived in bundles from all over the world, from the armed forces on land and sea, from service clubs, universities, and always from young ladies who were convinced they were just my type and wanted to come to New York and model for me.
I tried to discourage them but the more determined ones came anyway. I recall that the post office was always most obliging about delivering mail with no other address than New York; City.
I've never felt that I'm an artist in the true sense of the word. All I've had is a special talent with color and form and light and people seem to enjoy what I paint. I live the life of an artist and I've lived it. It's that everyone may not be able to be a millionaire, but it's fun to live like one! Like Picasso once said, "When I'm alone, I do not have the effrontery to consider myself an artist at all, not in the grand old meaning of the word. Giotto, Titian, Rembrandt, Goya, were great painters. I am only a public clown--a mountebank."
So now you can understand why I have so very little to say about any of the work; I've produced.
Visitors have made their way to my studio from all over the world--the House of Parliament, remote monasteries, "just to see the man who paints those lovely girls. I've received a weird assortment of gifts, from small museum elephants to exercise machines. I've managed to take it all in my stride.
My studio had taken on the aspect of the cross-roads of the world and I was enjoying it to the hilt. The pleasantest of my memories are the friendships of the some of the loveliest girls in the world, who posed for me.
I recall the time Joan Caulfield sat, when she was just preparing to open in her first Broadway show. She confessed that in spite of the great honor of a Broadway starring, part, she was really a bit scared she wouldn't make it and so she wasn't ready to quit modeling --not yet.
Another rather frightened little blonde lunched one day with Adrian Lopez, the New York magazine editor, and myself. Her name was Barbara Nichols, and apparently her initial fright hasn't stopped her from achieving top starring parts today in films and television.
Speaking of Adrian Lopez reminds me that I went into the publishing business for a few years in New York with Bob Harrison. We put out a magazine called Beauty Parade which was a success right from the start. I got out of the business because the pressures were too much, and took away time from my painting Harrison went on to publish a string, of magazines with great success.
About that time, the newspapers and magazines were devoting a lot of space to variously distorted images of my private life, to such a degree that I began to worry that models would avoid my studio to protect their reputations. Oddly enough, it worked out just the other way, The publicity brought a renewed siege of visitors and applicants knocking on my door and I was somewhat relieved when Brown & Bigelow asked me to go to St. Paul for a few months to make a portfolio of sketches for future calendars. I did not know it then, but I was closing my New York studio for good.
When I finished the sketches in St. Paul, B & B's president, Charles Ward, asked me why I wanted to go back to New York. I could work anywhere in the world, he pointed out, and ship my paintings to St. Paul.
It seemed like a good idea and I did want to visit my children in Los Angeles. So I rented the studio of Henry Clive, whose covers for the Hearst Sunday Magazine are famous' and I settled down in California and immediately met up with a whole new set of wonderful people.
Ken Murray dropped in with Marie Wilson one day and I painted her fabulous form for calendars. Since Ken's "Blackouts" were having a successful run in Hollywood, I became a frequent backstage visitor. One day a blonde kid named Norma Jean Dougherty came by looking for work. For the next four or five years, she posed for many of my paintings and during that time changed her name to Marilyn Monroe. Ken Murray was taking his show to New York and he told me Marie Wilson wasn't going. Did I know anyone who could replace her?
I told Marilyn to see Ken about the job and as she always followed the leads I gave her, she did. Ken very wisely told Marilyn her future was in Hollywood and his prophetic words turned out to be true. though Marilyn had a most difficult time before she made it.
I recall a time when she came to pose for me and her shoes were absolutely run down and beyond repair. I gave her a pair a previous model had left in the studio and Marilyn wore them home. Later she gave me the form-fitting dress she wore in "The Asphalt Jungle," which was one of the films that catapulted her to fame.
As I had one of the first TV sets in Los Angeles, the studio became more popular and crowded than ever. The fact that I was using the best of Earl Carroll's Vanities girls for models, didn't do much to slow down the traffic, either. I made one of the first TV shorts with Earl s Vanities girls, showing me making a painting of one of them. The music helped.
A couple of years later I bought a new home in Brentwood with a built-in studio. I hardly got settled in that when I found myself living in Las Vegas seven months later.. Two years of those bright lights day and night made me hunger for the country life and I moved back to a place in the San Fernando Valley. It had a pool with the studio built at the end of it and I felt I had found a permanent place at last.
One of my first models there was a fresh arrival from Texas and some things about her reminded me of Marilyn Monroe. Her name was Mansfield, first name Jayne. She had a warm personality and I did a number of paintings before she went to the New York stage.
She happened to mention my name to a Broadway columnist. The result is best expressed in a letter she wrote to me: "I imagine you know that Monday night I'll be popping out of your picture on the Steve Allen show. The idea sounds so cute. Little did we know what the outcome of those pictures would be. I'll be thinking a special hello to you and Gloria on Monday and I'll say something if I can." For some reason which I don't recall, I missed that particular program.
Another Moran model now on Broadway and launched on a singing career is Joi Lansing who appeared in "The Living Room" and is now a top movie and TV actress. My painting of Joi is in my personal collection of beautiful girls.
Due to the friendship and influence of two of Hollywood's top photographers, Max Munn Autrey and John Meredith, I've taken a fling at photography lately and find my photographs in demand in New York, Philadelphia, Cincinnati. I've also turned to more dignified portrait painting of men and women and consider this my best work.
Of necessity and modesty, and because this biography has space limitations, much of my private life has been excluded. But I do know many readers will be interested to know I'm married, my wife is an artist too, and of my four children, television viewers are seeing a lot of daughter Peggy, in re-runs of her movies.
Well, that sums up a career that started with a small kerosene lamp and, believe it or not. that same lamp sits right here on the coffee table before me.
2012 "THE PRICE & ID GUIDE to PIN-UPS & GLAMOUR ART", 3rd Edition. NOW ON PC CD OR KINDLE! Now covers all 50 American Pinup artists; the works of Rolf Armstrong, Gil Elvgren, Earl Moran, Billy DeVorss, Zoe Mozert, Enoch Bolles, Peter Driben, Mabel Harris, Gene Pressler, T.N. Thompson, Fritz Willis, K.O. Munson, Art Frahm, Jules Erbit, Earl MacPherson, Bill Ward, and many, many other Pinup Artists. Values and dates given for each Calendar, Print, mutoscope card , original artwork, playing cards, illustrated advertising , magazines: covers, gatefolds, cartoons, notepads, ink blotters w/titles postcards & more that each artist created. With sizes, values, dates on each item... This guide is Now available as a KINDLE BOOK, through Amazon and free to borrow for a short time through Amazon Prime Library Or you may purchase this guide through Amazon/Kindle books for $8.95 postpaid. No further paper editions are planned. The older paper editions of the past are becoming most rare and sell for up to $25.00 each used online. Author Denis Jackson is a dealer and collectors of illustrators and their paper collectibles and has been for 40 years. Present and past editions Printed and Copyrighted by TICN publishers. ISBN: 1-888687-02-9.CLICK ON PICTURE BELOW AND IT WILL TAKE YOU TO AMAZON BOOKS WITH REVIEW, ILLUSTRATIONS, AND OTHER SAMPLE SECTIONS THIS OF GUIDE YOU CAN VIEW FREE AND DO INSTANT PURCHASE OF THIS NEW 3RD EDITION THERE IF YOU WISH.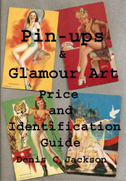 For the PC CD, with simple to use, browse and guaranteed to open and be virus free on your personal computer, so get our Pin-ups & Glamour Art, 2012 Price and ID Guide, 3rd edition for only $8.95, $3.95 = $12.90 total and includes ship. mailer and disk costs. You may use Pay Pal to pay for from the ADD TO CART BUTTON BELOW
Or send check or Money Order made out to:
TICN: Denis Jackson, POBox 565, Ash Fork, AZ. 86320.
Our website www.olypen.com/ticn "The Illustrator Collectors News" and is mainly supported by fellow collectors who purchase one or more of our price guides to support the site. This is strictly Voluntary there is no obligation to do so when placing your free classifieds. www.olypen.com/ticn/pics.htm But, if those using this site should consider making a modest guide purchase. A future fee will then never be needed for our sites. By selling more of our popular and exclusive guides by TICN and giving you free ads to you now we can grow and expand and bring in new members. In future this site will offer reviews on books, videos, CDs, Shows and other information relating to COLLECTIBLES. There have been more then 10,000 Illustrators who have worked in the Illustration & Art area over the past one hundred years and we are the only site that truly specializes in all of them and have for 40 years. Illustrators of the past created some the most beautiful art and quality color lithographic paper collectibles ever! Some pieces bring $1,000s of dollars for a single mass produced work on paper. In the area of magazine covers alone it is not unusual for a cover from the teens or the 1920s done by a popular Illustrator to fetch $100.00 or more each! Why such high values? Because of the fine lithographic printing quality of those times; which make many of these works miniature, jewel-like posters of stunning color and form and rarity, as each passing year this old paper becomes scarcer and scarcer. Created works as these are highly frameable as well. Of the 10,000 Illustrators of the past many can be found at our website because we specialize in them.
---