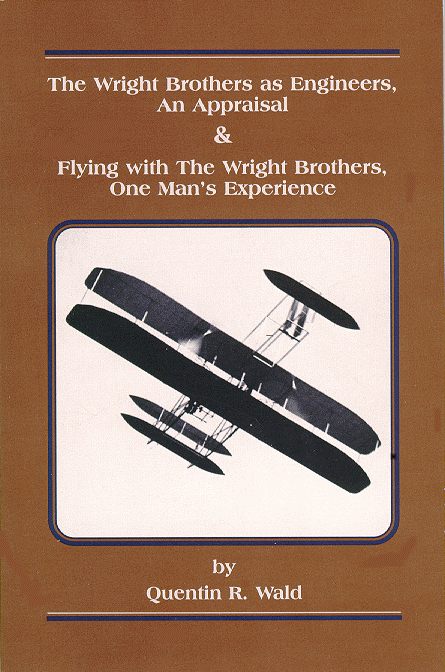 81 pages, 16 photos and 5 diagrams

On Tuesday April 23rd, 1912, Charles Wald's log concludes: "6 landings rather hard, slight improvement at the finish. Last landing cut off power at 100 ft. altitude. Welsh thinks no more time necessary. Start for New York 8:50 PM."
The Wright Brothers as Engineers
An Appraisal

and

Flying with The Wright Brothers,
One Man's Experience

by Quentin R. Wald
PURCHASING THE BOOK

CONTACTING THE AUTHOR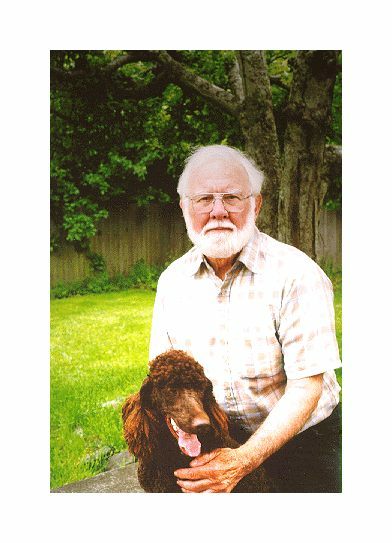 Quentin and Osa, 1999

Quentin Wald grew up on Long Island in the 1920's and 1930's. He was surrounded by aviation activities of which his father, Charles Wald, was a part.

Now retired, Mr. Wald is interested in early, aeronautical history and is working on theoretical studies in fluid mechanics.
The price per copy is $12.95, plus $2.00 for postage and handling. ($14.95)

If you are a resident of Washington State, please add sales tax of $1.02 ($15.97)
Send your check, and your copy will be promptly mailed. Our address is:

Book Purchase
102 Cape George Rd
Port Townsend, WA 98368
AN EXCERPT FROM THE BOOK:

Lateral and Directional Control

It is interesting that the gliders that the Wrights built in 1900 and 1901 had no vertical surfaces whatsoever, lacking what we call a rudder. How did they expect to maneuver in the horizontal plane? Again I quote Wilbur's 1901 lecture:
The lateral equilibrium and the steering to right or left was to be attained by a peculiar torsion of the main surfaces, which was equivalent to presenting one end of the wings at a greater angle than the other.
The "peculiar torsion of the main surfaces" is the ingenious system of lateral control invented by the Wrights and described in their basic patent. It was used in all their machines and consisted of a means of twisting the wings by pulling on wires which formed a part of the system of wing trussing, a control device eventually to be known as wing warping. The front wing spars and struts were wire braced to form a rigid truss. The rear spars were similarly braced in the center section of the wings, but the outer portions of the rear spars were arranged to bend up or down by the action of diagonal control wires, thereby twisting the outer portions of the wings. The twist increased the angle of attack on one wing and decreased it on the other to produce a like difference of lift. It is effective roll control and mechanically practical for thin trussed biplane wings. It was employed in many machines in this country and in Europe into the beginning of the first World War. Glenn Curtiss and others evaded the Wright patent by using separate small controllable wings or "ailerons" between the main lifting surfaces or ailerons in the form of hinged panels at the trailing edges of the wings, as all airplanes do today.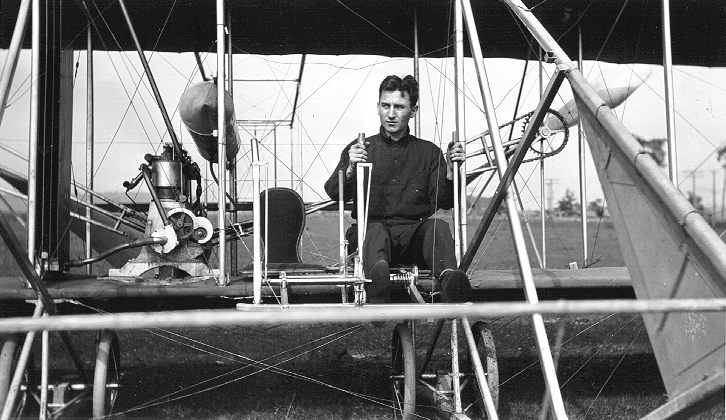 Charles Wald at the controls of a Wright Model B. Huffman Prairie, near Dayton, Ohio, April, 1912
[Click on the photo for a full-sized image.]

CONTACTING THE AUTHOR:

email Mr. Wald at: qrwald@olypen.com