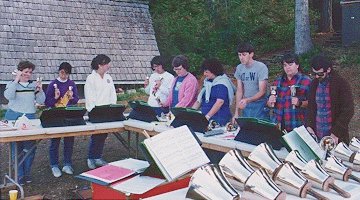 Northwest Bell Ensemble
The Northwest Bell Ensemble was a non-denominational Christian handbell ensemble that performed in the greater Seattle area from 1985 to 1998 under the direction of Ron Ebbers. They had over 200 years of bell playing experience and produced two recordings: A Musical Tapestry and Northwest Echoes. They performed on a five octave set of Whitechapel handbells that they found was the best set of handbells for the fast-paced pieces that they played.

A Musical Tapestry
Our second recording, A Musical Tapestry, was made in 1995. After the first recording had sold out for the first time, we decided to make the second recording on both tape and CD. So we found a recording studio in an upstairs room of a private residence in Bothell, WA and spent three days with a perfectionist sound engineer. The results is one of the best recordings of bells I have ever heard.
Track List:
Overture to "Carmen" -- George Bizet, arr. Martha Lynn Thompson
Blessed Assurance -- Phoebe P. Knapp/J.S. Bach, arr. Cynthia Dobrinski
Allegro Giocoso from "The Water Music" -- George Frederic Handel, arr. Kevin McChesney
Clair de Lune -- Claude Debussy, arr. Dick Averre
Northern Lights -- Margaret R. Tucker (Shelley Moine, flute)
Hornpipe -- Karen Buckwalter
Canon in D -- Johann Pachelbel, trans. William H. Griffin
Siciliene -- Gabriel Faure', trans. Philip M. Young
Gigue Fugue -- J.S. Bach
Prayer -- Hal Hopson (Shelley Moine, flute)
Incalzando -- Donald Allured
In The Garden -- arr. Cynthia Dobrinski
Go Down Moses -- Traditional Spiritual, arr. Hart Morris

Total Playing Time 68:07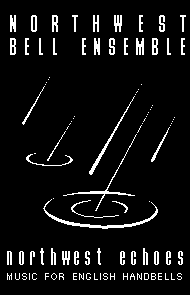 Northwest Echoes
Our first recording, Northwest Echoes, was made in 1990. After we had been together for five years, many people hearing us expressed an interest in purchasing a tape of our bell music. So, we traveled 50 miles south to Olympia, WA and spent two days in a church turned recording studio to make this tape. Only 300 copies were ordered and it has sold out.
Track List:
Antiphonal Fanfare on "Praise to the Lord" -- Jeffery Honore
Fanfare -- Jacque Lemmens/Thompson
Bandelier -- Tammy W. Rawlinson
Fugue in G Minor -- J.S. Bach
Come Thou Long Expected Jesus -- Theodore Beck
Rustic Dance -- Margaret Tucker
Go Down Moses -- Arr. Hart Morris
Cameron's Theme -- Paul Schneider
Northwest Echoes -- Paul Schneider
Sheep May Safely Graze -- J.S. Bach
Parade of the Wooden Soldiers -- Leon Jessel/B. MacDonald
In The Garden -- arr. Dobrinski
Carol of the Bells -- Ukrainian folk song
Sussex Carol -- Phillip Young
Dance of the Reed Flutes -- Tchaikovski/arr. Griffin
Dance of the Surgar Plum Fairy -- Tchaikovski/arr. Freeman
Trepak -- Tchaikovski/arr. Wagner

Total Playing Time ??:??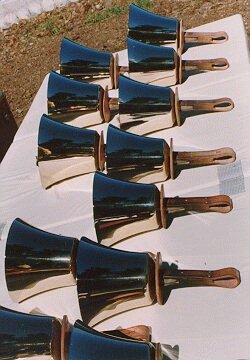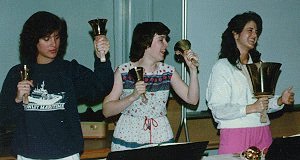 To contact them, write to:

Northwest Bell Ensemble
c/o Paul Schaper
238 Robbins Road
Sequim, WA 98382-7894

Or call Ron Ebbers, Director at 206-248-1815


This web page sponsored by Paul Schaper - Nwbell@aol.com


Links
This web page optimized for viewing with Netscape 2.0
All text and graphics copyright 1996 Paul Schaper (unless otherwise noted)
All sound files copyright 1995 Northwest Bell Ensemble