"Must Visit" Places in
FORKS, WA.
Below you'll some totally arbitrary, capricious, and unpaid-for plugs for businesses in Forks, Washington that I think might be of potential interest to folks touring in the area. This list will be added to/modified as my time and inclination allows.
The first of the businesses that I'd like to plug is a new one of our own. At the Manitou Lodge, Lynne and I have and will continue to operate a Northwest Arts shop. However, we will be opening a new location in Forks (124 Sol Duc Way, next to the South North Garden Chinese Restaurant) approximately April 1. 1999. This shop, , "The Errant Elk" will feature Northwest arts in a variety of media - carvings, basketry, beadwork, jewelry, woodturning, wall-art, etc. We'll also be offering several lines of clothing. As this was until recently the site of the "HomeDoc" appliance repair, everyone is requested not to bring me any dishwashers, toasters, radios, etc. for repair.
---
The Errant Elk Northwest Arts
Here's a "before" image of the site of the "The Errant Elk". Not a pretty picture in this photo. However, much freshening up has been done here recently. We'll be open for business approxiumately April 1.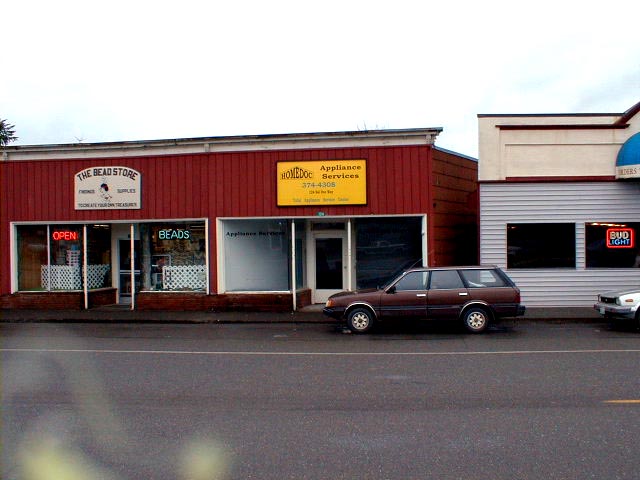 ---
Tinker's Tales Books / West Wind Gallery / Espresso Elegante
Three businesses in one location on the east side of Highway 101 just north of the streetlight:
Tinkers Tales Bookstore features many volumes on the Pacific Northwest in general and the Olympic Peninsula in particular, covering, but not limited to, its geography, history, native peoples, and exploration by Europeans. In addition, you'll find a large collection of current bestsellers and other literature of all descriptions. Sprinkled around the place is a eclectic collection of antique furniture and other interesting artifacts.
Westwind Gallery is a local artists cooperative. Original works in a variety of media cover the walls, and are displayed among the racks of books. There is a "Featured Artist" nook in which a collection of the work of a local artist is displayed.
Espresso Elegante completes the trio of business. Here you can purchase an expresso. latte, chai, etc. as well as choose from a variety of breads & desserts. Sit at the tables provided, sip your drink or tour the bookstore/art gallery.
Here are a few visuals...
---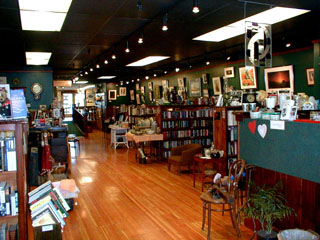 Interior view of the Bookstore and Art Gallery. A portion of Espresso Elegante can be seen on the right
---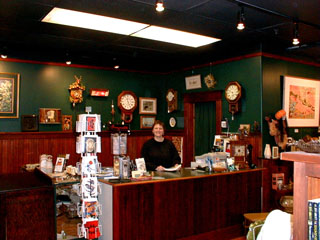 Cheri Fleck, Owner/operator of Tinkers Tales Bookstore. Cheri can help you find literature that will treat the eye, mind, body, and/or soul. A particularly excellent place to visit on a rainy day in Forks.
---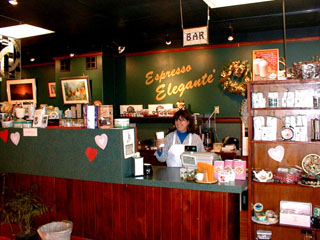 Linda Melhoff, Owner/operator of Espresso Elegante. Linda serves up a mean espresso, mellow latte, and spicy chai. Espresso Elegante also offers a variety of (frequently homemade) dessert items. In addition, its own blend of ground coffee is available for purchase.