Surco Safari Rack
mounted on Yakima load bars
Close up front detail


The two gutter mounted bars are 58" long, and the two rail mounted bars are 48" long.
The gutter mounts are located at the front and rear of the rack, and the rail mounts are
located directly under the rack's original load bars, and support the center section of the rack.
This give me eight attachment points, and distributes the load between the roof and the gutters,
and adds rigidity to the rack, making the whole setup very strong. I used a 40x50" Surco,
which left just enough room to mount two bike carriers to the outside of the rack.


Close up detail of rear with fork mount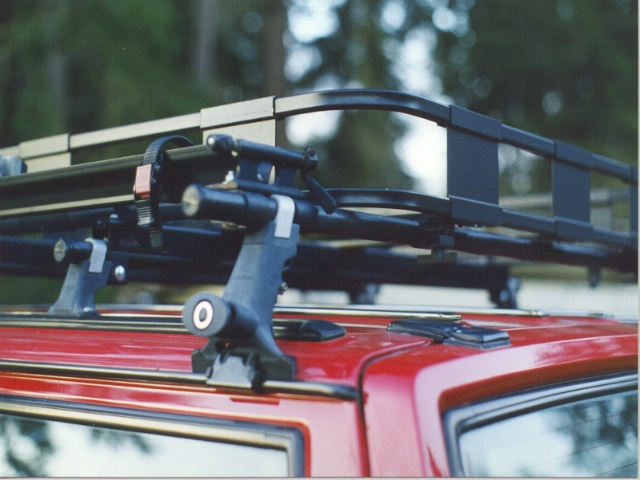 The addition of the fork mount at the rear of the bike carrier allows for two
ways to carry a bike, either facing forward with front wheel on, or facing aft
with the wheel off, (a more secure mounting for rough roads and long trips).
This also allows me to carry up to 4 bikes at a time. With one mounted facing forward
on each carrier, I can attach the fork of a second bike to the fork mount at the rear
of the carrier, and the rear wheel can be secured to the spare tire carrier.