Biography
After seven years as a US Navy deep sea diver Chris Duff began a lifetime of ocean travels in small boats. In 1984 he completed an 8,000 mile solo sea kayak trip around the eastern third of the US and Canada. Two years later he became the first to solo sea kayak around Great Britain.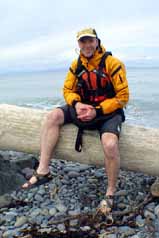 In 1996 Chris solo circumnavigated Ireland by sea kayak and authored an award winning account of that trip. On Celtic Tides won the National Outdoor Book Award for 2001. In 1999 Chris set off for a solo circumnavigation of New Zealand's South Island and upon completion wrote of that epic journey in a second award-winning book. Southern Exposure won the National Outdoor Book Award, the Benjamin Franklin award and the Banff Mountain Book Festival Grand Prize. Three years after completing the South Island journey, Chris circumnavigated Iceland with two other northwest paddlers- Shawna Franklin and Leon Sommé of Orcas Island, WA.
After almost 18,000 miles of sea kayaking, Chris is now looking at new horizons. His quest for the rich beauty of ocean solitude has led Chris to look for a boat that offers the same physical connection to the sea but one that will offer greater range and a higher degree of safety for offshore travels. A specially designed open ocean rowing boat has temporarily replaced his sea kayak and Chris is planning another major journey.
The route has been called The Viking Stepping Stone Route. And indeed it is the route which St. Brendan in the 6th century is said to have taken on his quest to seek out lands far to the east of his native Ireland. Following in the wake of the Neolithic peoples, St Brendan, and the Vikings, Chris is hoping to row from Northeast Scotland to Iceland, using the Orkney, Shetland and Faeroe Island groups. The north Atlantic offers some of the most challenging waters in the world, rich Celtic and Pre-Celtic history, stories of Norse invaders and cold clear waters abounding in sea mammals, massive populations of sea birds, and the sea folks who populate the small islands and communities of this northern region.