Navigation
Home
FAQs
Aiyana Research
Descendancies
Famous Aiyanas
Links
About this page
Clan Aiyana is one of the 36 mtDNA groups (or clans) identified so far. As of 26 Aug 2003, the Oxford Ancestors searchable database lists 39 matches for Aiyana.

According to Oxford Ancestors:
Aiyana
...the founder of one of the four major clans which colonised both North and South America from Eastern Asia about 12,000 years ago. Aiyana's descendants fought extreme conditions of cold and ice as they moved across the Bering Land Bridge, which joined what is now Alaska and Siberia, to reach the Great Plains of North America. From there they spread out to reach all parts of the continent and, within only a thousand years, all of Central and South America as well. However, given the data currently available, it is not possible to determine precisely where Aiyana lived or indeed when.

The descendants of four clans - Chochmingwu, Djigonasee, Aiyana and Ina - dominate the Native Americans. Also, about 1% of Native Americans are found to belong to the clan of Xenia, which had its origins on the borders of Europe and Asia. The clans of Chochminwu, Djigonasee and Aiyana can all be found in modern inhabitants of Siberia and Alaska, but this is not the case for Ina. Her descendants are found in South and Central America, but only as far north as Vancouver Island on the north-west Pacific coast. Intriguingly, this same clan is also the one that is closely associated with the colonisation of the Polynesian islands from Southeast Asia.

The natives of the Far East [Asia] are predominantly descended from Djigonasee, but there is considerable representation from the "Native American" clans of Ina and Aiyana, and from six further clans -- Fufei, Yumi, Nene, Malaxshmi, Emiko and Gaia.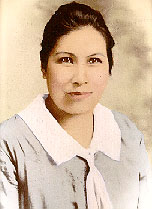 According to GeneTree:
Culture History for mtDNA Haplogroup A: The origin of your mtDNA haplotype dates back to a maximum of 25,000 years before present and coincides with the initial peopling of the Americas. The peopling of the Americas took place with the passage of nomadic Siberian hunters from Northeast Asia to Alaska across the Bering Land Bridge. Currently, mtDNA and Y chromosome evidence suggests that the initial migrants to the Americas originated in the Lake Baikal/northern Mongolia region. These nomadic big game hunters were extremely mobile and quickly colonized the New World spreading from Alaska to the southern tip of Argentina in only a few thousand years. As population densities increased and large game became rare, these hunters began to diversify their diet and fill all available ecological niches. At the time of European contact, Native American groups lived extremely varied lifestyles with some groups, as in Mexico, developing complex agricultural based societies and other groups, as in the Great Basin, remaining hunter-gatherers, and living in small mobile bands.